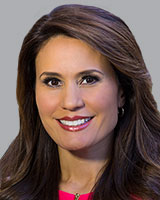 Amber Rupinta starts each weekday at 4:30 a.m. on Eyewitness News This Morning. She also reports on various stories throughout the Triangle, including the popular Money Saver series. Amber joined ABC11 in February 2004 spending the next 5 years as the weekend morning co-anchor.

Some of the more prominent stories Amber has covered for ABC11 include: Presidential candidates Barack Obama and Hillary Clinton battling for N.C. voters, Hurricane Ophelia, a terrorist attack at UNC-CH, the Conagra plant explosion, and the Carthage nursing home massacre that left 8 people dead.

Prior to WTVD, Amber worked for WCAU, the NBC affiliate in Philadelphia, and WHAG in Hagerstown, MD. She began her career behind the scenes at WJZ in Baltimore before becoming a reporter on the Baltimore Sun High School Sports Show.

Amber is no stranger to the Carolinas having spent several years growing up on the Cherokee Indian Reservation. She is one of 8 children and a "military brat" who spent her childhood in interesting places all over the U.S. Amber's father joined the U.S. Navy to immigrate to America from the Philippines.

She is a member of the Asian-American Journalists Association, the National Weather Association and a graduate of Towson University. In 2016, she completed Mississippi State's Meteorology Certificate program and earned a graduate certificate in Technology and Communication from UNC Chapel Hill. She will earn a second BS in Geoscience from MSU in August 2017.

Amber, her husband and two sons live in Raleigh.

Contact Amber at amber.rupinta@abc11.com.

Request Amber to speak at your event.
---