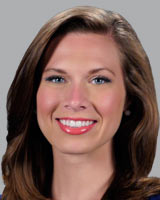 Andrea Blanford joined the ABC11 Eyewitness News Team in June 2014 as a general assignment reporter. It is more like coming home for this Tar Heel who once worked as an ABC11 I-Team intern during her undergraduate days at UNC-Chapel Hill.

Andrea's North Carolina roots run deep. She comes to the Triangle from WNCT-TV (CBS) in Greenville, NC where she spent four years covering the news "Down East." In the beginning, Andrea was out in the field, reporting a wide array of stories including a double murder trial, Hurricane Irene ravaging much of eastern North Carolina, and holding lawmakers accountable for state budget cuts to education.

While at WNCT, Andrea went on to anchor the morning and noon newscasts. During that time, she drove several breaking news events, including extended coverage of the Greenville Walmart shooting spree.

Andrea is a proud graduate of UNC-Chapel Hill, where she earned her BA in Journalism and Mass Communication, and a second major in Political Science. She served on the university's cheerleading team all four of her years at Carolina. Her most memorable moment was cheering on Roy's Boys at the 2009 National Championship in Detroit. Go Heels!

When she isn't in the newsroom, Andrea enjoys spending time with her husband, Steven. She is also an avid painter; you can usually find her in front of a canvas with paint brush and pallet in hand.

Andrea is eager to meet you and get involved in the community. You can keep up with her on Twitter and on Facebook.

If you ever have a story you would like to share with her or just want to say hello, send her an email at andrea.blanford@abc11.com.

Request Andrea to speak at your event.

---