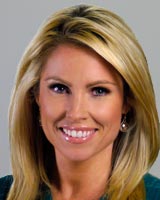 Anna Laurel is thrilled to be back in the Southeast and close to her parents who live just outside Raleigh. She joined ABC11 Eyewitness News in 2013. She co-anchors the 4 p.m. and 5:30 p.m. newscasts with Eyewitness News Anchor Joel Brown and ABC11 Chief Meteorologist Chris Hohmann.

Anna was born in Memphis and spent part of her childhood in New York before moving to South Carolina where her family is from originally.

Her dad is a Southern Baptist Preacher, which is why she moved a lot. It's also what gave Anna her big world view. She even worked in a beach front restaurant in Netanaya, Israel at one point. Anna graduated from the University of South Carolina. Go Gamecocks! She started her broadcast career in Missoula, Montana where she shot, wrote and edited her own stories. She also learned how to get inside a fire shelter in a forest fire if she had to! From there Anna moved to Phoenix where she reported and filled-in at the anchor desk for KPNX 12 News. There she covered serial killers, a Super Bowl, and even slid down a water slide on live TV!

Throughout her career, Anna has been active in many charities including Teen Challenge, the Make-A-Wish Foundation, the Ronald McDonald House, and Race for the Cure.

When she's not working Anna enjoys spending time with family and friends, traveling, exploring, hiking, checking out great restaurants, being involved with her church, and staying active. And her rescued Yorkie, Moshe, does it all with her.

Email Anna.

Request Anna to speak at your event.
---