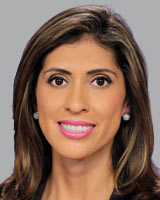 Gloria Rodriguez is a reporter for the ABC11 Eyewitness News morning newscasts, weekdays from 4:30 am to 7 a.m., as well as the Eyewitness News at Noon.

Rodriguez is joining ABC11 Eyewitness News after serving her hometown community in the Palm Springs area of California as Anchor/Reporter/Producer of KMIR, the NBC affiliate. Gloria is passionate about telling stories that can bring about change and shed light on important issues. During her time at KMIR, Gloria covered several wildfires, President Gerald Ford's death and state funeral, and interviewed numerous celebrities and politicians, such as former California Governor Arnold Schwarzenegger and President Bill Clinton. She covered the Palm Springs International Film Festival, BNP Paribas Open, and the Humana Challenge, among other local events. She reported on shoddy living conditions in mobile home parks, working conditions of migrant workers, LGBT-issues, military stories at the Twentynine Palms Marine Corps Combat Center and reported on immigration at the US-Mexico border.

Gloria graduated from Cathedral City High School, received bachelor's degrees in broadcast journalism and political science from the University of Southern California and a master's degree in broadcast journalism from the Ivy League institution, Columbia University in New York. Gloria was a reporter for KNWA, the NBC affiliate in Fayetteville, Ark. She also has a print background, having written articles for The New York Times, The Boston Globe, the St. Paul Pioneer Press and The Desert Sun.

Gloria dabbled in sports journalism as a freelance reporter for The New York Times, covering the New York Yankees baseball team and other sports teams. She also reported on the USC football team for her school newspaper, The Daily Trojan, and had the chance to cover the successful team coached by Pete Carroll and featuring future NFL players Troy Polamalu and Carson Palmer.

Gloria's parents moved to the United States from Mexico more than 40 years ago and sent all three of their children to the University of Southern California. That is why Gloria is so passionate about helping students attain a higher education. She taught at the College of the Desert and is involved with helping students earn scholarships. She also enjoys participating in community events such as the Go Red for Women luncheon, a cause close to her heart since her mother passed away of a massive heart attack at the young age of 54. Gloria enjoys spending time with her family and friends, traveling and hiking with her rescue dog, Bubba, who is half poodle and half shitzu. She is looking forward to life in the Triangle!

Email Gloria at Gloria.Rodriguez@abc11.com

Request Gloria to speak at your event.
---