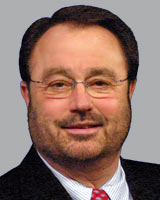 In 1983, Greg Barnes joined ABC11 Eyewitness News, where he opened and now operates the station's Fayetteville News Bureau. Greg got his start in broadcasting in 1967, when he signed on as a part-time (and later full-time) radio announcer at WAGR-FM in Lumberton, NC. He also worked as an Engineer and Announcer at WFLB-AM in Fayetteville, NC. He got his first anchor position at WECT-TV 6 in Wilmington, NC, in 1981, and, in 1993, Greg was a recipient of the Associated Press' "Roy Hardee" Award. He has received citations for his work with various civic and social groups. Greg also has received Military merit and achievement awards for coverage of the 82nd Airborne troops deployment to Panama and the Persian Gulf.


Greg has been actively involved in the Walker-Spivy School for the mentally and physically challenged and CHADD, a group for children with Attention Deficit Disorder. Greg attended Pembroke State University and lives in Lumberton with his wife, Lynne, and two children.

Email Greg.

Request Greg to speak at your event.
---