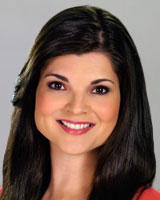 Heather Waliga co-anchors the weekend evening editions of ABC11 Eyewitness News. During the week you can find her reporting live around the Triangle.

Heather joined the Eyewitness News team in 2013, but she's has been telling the major stories impacting North Carolina for several years. Most recently, she traveled to Houston to cover the UNC Men's Basketball team in the Final Four. She also followed the Duke Blue Devils to Indianapolis when the team took home the national title in 2015.

Before coming to ABC11, Heather served as weekday anchor for Time Warner Cable News in Charlotte. Among her most memorable assignments, anchoring the station's coverage of the Democratic National Convention and the March on Wall Street South. She also co-hosted a live, Emmy-winning broadcast of the 2012 Miss North Carolina pageant. Heather is the recipient of several Associated Press awards and was most recently recognized by the Radio Television Digital News Association of the Carolinas for her health and feature reporting.

Heather began her television career at WJHG in Panama City where she shot, produced and edited her own stories as an anchor and reporter.

She hails from Knoxville and is a graduate of the University of Tennessee. Go Vols!

Heather is a VOLunteer at heart and a fierce champion for community service with a passion for the special needs community. She spends much of her time out of the studio furthering the causes of Down syndrome research and education on behalf of her sister. She also works with several local organizations including the National Inclusion Project, Special Olympics North Carolina, Habitat for Humanity and the Salvation Army.

Heather is thrilled to be in the Tar Heel State. If you see her out, say hello!

Email Heather at heather.waliga@abc11.com.

Request Heather to speak at your event.
---