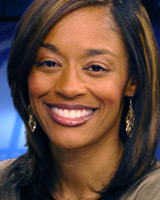 Nicole Carr joined the Eyewitness News team in 2013 as Fayetteville Reporter. It's a return home for the Fayetteville native, who was a part of Jack Britt High School's inaugural class.

Nicole is an "Army Brat," and grew up all over the world, making ten moves before the age of 16. She attended Winston-Salem State University, and earned a master's degree in broadcast journalism from Syracuse University. She also studied abroad at Cambridge University in England.

Nicole's television career began as a reporter with WECT in Wilmington, NC. She then headed to the Piedmont to report for WGHP. Nicole also enjoyed working with WTVF in Nashville before returning home to get married. In 2010, she re-joined WGHP to help launch an expanded morning show, and reported extensively on the John Edwards trial, the Democratic National Convention, and from China. She also hosted a series called "Forever Family," which aimed at highlighting North Carolina's foster care children. The series resulted in numerous adoptions across the state.

In 2012, Nicole was named a reporting fellow with the International Center for Journalists in Washington, D.C. She pitched and developed a trade story, traveling to Beijing to report on North Carolina's growing furniture and agriculture exports to China. The trip resulted in a three-part series, called "From NC to China," that aired on WGHP, and was re-published in state and furniture industry publications.
In addition to reporting, Nicole has served as an adjunct communications instructor at her alma mater and several other North Carolina colleges.

Nicole is a proud wife and mommy, who remains active as a member of Winston-Salem State's Board of Visitors and the National Association of Black Journalists. She is also a member of Alpha Kappa Alpha Sorority, Inc. Nicole is most passionate about military families, and looks forward to re-connecting in her hometown.

Email Nicole at nicole.carr@abc11.com.

Request Nicole to speak at your event.
---