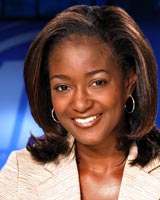 Tamara has two decades of broadcast news experience. She got her start as a reporter for WCIL-FM Radio in Carbondale, Illinois where she won the Illinois Broadcaster's Association Silver Dome Award for Best Public Affairs Series in 1995. Her career eventually led to various anchor and reporter positions at several Illinois stations including WSIL -TV in Carterville, WICS-TV in Springfield, and WICD-TV in Champaign.

While covering the Illinois State Legislature, Tamara earned her Master's Degree in Public Affairs at the University of Illinois at Springfield. During her undergraduate studies at the University of Illinois at Urbana-Champaign, Tamara joined the historically black sorority Sigma Gamma Rho Incorporated.

During her time away from the newsroom, she serves as a guest lecturer at local community colleges and universities. She has volunteered with Wake County Meals on Wheels and the Women's Ministry of her church. Drawing on her own personal experience, Tamara has worked as a student tutor and mentor for disadvantaged youth in the Triangle.

Tamara enjoys eating sushi, long distance running, genealogy research, and reading. She also has a love for arts and crafts. It's not uncommon to find Tamara making scented candles, scrapbooking or designing handmade greeting cards.

Tamara is a board member of The Beautiful. Project, a Durham-based non-profit that offers a 16-week self-esteem program designed to creatively explore and affirm the dynamic beauty of Black girls through photography and the eyes of family, friends, and self.

Learn more at www.thebeautifulproject.org

Email Tamara at tamara.gibbs@abc11.com.

Request Tamara to speak at your event.
---