The long holiday weekend is packed with great activities for everyone. Our top picks: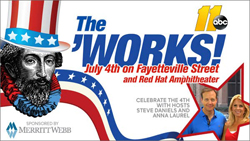 The 'Works in downtown Raleigh
(Friday) Noon - 11 p.m. on Fayetteville Street
ABC11 is proud to bring you the 4th of July spectacular The 'Works, which kicks off at noon with live music, kids' rides and games, street performers, eating contests, and much more. Fireworks will light up the sky over The Duke Energy Center for the Performing Arts starting at around 9:30 p.m. Stay with ABC11 for live updates throughout the day, and don't miss our 4th of July special starting at 9 p.m.
Click here for a map and schedule of events
Fort Bragg 2014 Independence Day celebration
(Friday) 3 p.m. at Main Post Parade Field
The Fort Bragg fireworks are back! This year's events include a concert by .38 Special and Josh Turner, followed by The 82nd Division Band playing the 1812 Overture, then fireworks between 9:40 p.m. and 10 p.m.
Details
Jammin' Jazz Fourth of July in Durham
(Friday) 6 p.m. at American Tobacco
Jazz concert by Mickey Mills and Steel. Style is reggae, calypso and latin funk. Stay after the show to see the fireworks at Durham Bulls Athletic Park (gates open for all after the 7th inning).
Details
CLICK HERE FOR A FULL LIST OF FIREWORKS LOCATIONSMore events worth checking out:1. 35th Annual Festival for the Eno
(Friday and Saturday) $15/day advance, $20 at the door
More than 65 musical acts will play on four stages over two days. Couple that with art and food, and this year's celebration of the Eno River is one you don't want to miss.
Details
2. American Dance Festival: Cedar Lake Contemporary Ballet
(Saturday and Sunday)
Ballet is always good for a date night and this is something for the weekend that doesn't involve fireworks. One of the performances, "Violet Kid," examines man's struggle for harmony within a complex and sometimes horrifying universe.
Details
3. Midtown Beach Music w/Jim Quick and Coastline
(Thursday) FREE at North Hills
Enjoy some beach music before you head to the beach for the holiday! Jim Quick has won the "Entertainer Of The Year Award" honor at the Carolina Music Awards, with a style described as Soul and Blues.
Details
4. First Friday Art Walk in Raleigh
(Friday) FREE 6 p.m.
Just because it's a holiday weekend doesn't mean the art community shuts down. Cool exhibitions this month are at Artspace, Blake Street Shops & Studios and more.
Details
5. Looking ahead: Goo Goo Dolls & Daughtry
(Tuesday 7/8) $20 and up at Walnut Creek
John Rzeznik and Goo Goo Dolls kicked off this tour last month in support of their latest album "Magnetic," and they'll make a stop in Raleigh with North Carolina's own Daughtry, plus the Plain White T's.
Details

Report a Typo