RALEIGH (WTVD) --
With the Powerball jackpot now at $1.5 billion (yes, that's billion with a B), you'd think stores that sell tickets are rubbing their hands with glee. But many tell ABC11 that's actually not the case.
That's because long lines for tickets when jackpots get large often discourage customers who might buy other items.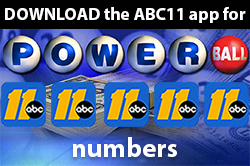 The Eagles Express convenience store in Knightdale has the best record for lottery wins in Wake County and is in the top five in the state for sales. But while ticket sales are spiking, manager Ann Lominson said overall sales are down 10 percent.
"This is the slowest time of year. Sales are down. People see long lines they leave," she explained.
That's even with a system for dealing with Powerball fever.
DON'T BELIEVE THIS POWERBALL MEME GOING VIRAL ON SOCIAL MEDIA
"We have two registers - one just doing lottery. Get people out faster," said Lominson.
Still, nobody's threatening to stop selling tickets because, overall, being a lottery retailer is shown to increase customer traffic year round.
Report a Typo