RALEIGH (WTVD) --
Looking at Raleigh mom Jennifer Miller, you would never know that she's fighting a disease that's constantly trying to attack her body. She has Lupus, an autoimmune disease that's often labeled "a cruel mystery" because it's hidden from view and has a range of symptoms.
"I was always sick when I was younger. Always in and out of hospitals, and doctors with random things where doctors would say, 'you're too young to have this,' or 'we don't understand what's going, on we don't know what's going on,'" she recalled.
This went on for years, until she suffered repeated knee injuries and an x-ray finally noticed a loss of bone density. Upon a closer look, a doctor suspected arthritis and she was sent to a rheumatologist. Then, just before that appointment, she got sick.
"I wound up breaking out in these red spots all over my back, all over my stomach, all over my face. And I had no clue what they were. [The doctor] looked at me, took one look, and he knew what I had," Jennifer shared.
That doctor sent a sample of the rash to a lab to be tested, and it confirmed that she did indeed have Lupus. She was lucky to get that conclusive diagnosis.
"A lot of people with Lupus don't find out through positive tests because it's an underlying thing," she said.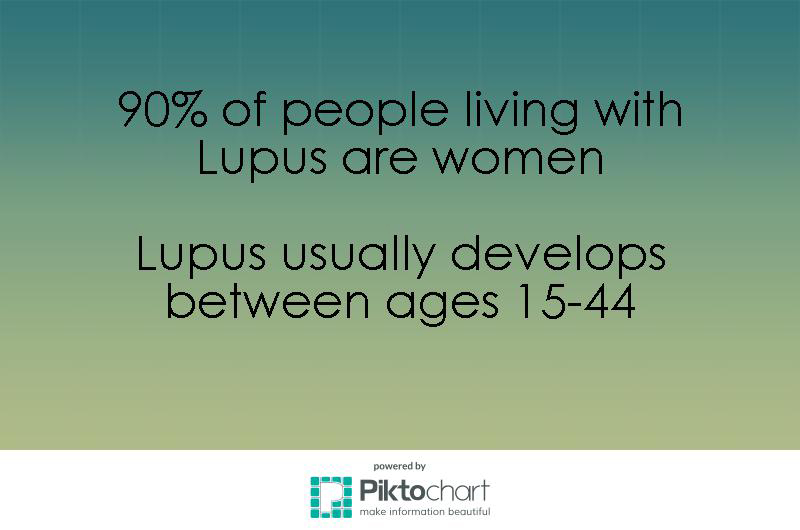 And, according to the Lupus Foundation of America, many symptoms of Lupus mimic those of other illnesses, and symptoms can come and go over time, which makes diagnosis more difficult. Consequently, lupus can take three to five years or more to diagnose.
"We call it a cruel disease for a reason. At first it can look like so many different things, it can manifest itself in these seemingly unconnected symptoms," explains Christine John-Fuller, President and CEO of the North Carolina Chapter.
Unfortunately, many of these symptoms occur in other illnesses, so patients can be misdiagnosed with other conditions. Those conditions include rheumatoid arthritis, blood disorders, fibromyalgia, diabetes, thyroid problems, Lyme disease, and a number of heart, lung, muscle, and bone diseases. Patients can also have those conditions in addition to Lupus.
"If you start to manifest things that just don't connect, start a journal. Start taking note of when it's coming, what seems to be bringing it on, how long is it lasting, what's the intensity of it, and look for professional. In the case of Lupus you want to see a Rheumatologist," stresses John-Fuller, adding the sooner, the better. "Lupus, in its simplest form, is a chronic autoimmune disease in which the immune system becomes hyperactive. So, instead of attacking foreign antibodies it begins to attack the body itself. What it does, it causes inflammation within the body that can literally attack any organ in the body."
Lupus could have fatal consequences, including kidney failure or heart failure. For now, Miller keeps the worst of her illness at bay through as many as 20 pills a day. But, she's still faced with constant pain and exhaustion, sometimes unable to get up off the couch. It's a side effect that left her unable to work, and makes it difficult to do all that she wants to with her two girls ages 5 and 7. However, she does her best to not let her disease control her.
"The one thing I never do is let myself get down about it, because you can't. You can't change it, you can't do anything about it. You take it for what it's worth. You have good days and bad days. I have made the sacrifice, when I had my kids, to say 'I'm not going to let this disease slow me down,' and I'm going to stand by that. I go to their baseball games, their basketball games, or practices.
Jennifer remains an active supporter of the Lupus Foundation of America, North Carolina Chapter, taking part in their 'Annual Walk to End Lupus Now' every year. The event helps raise awareness for the disease as well as funds for support services and research. The advances in research give Miller and others hope that one day, there will be a cure.
To attend an informational meeting to learn more about Lupus and this year's walk on May 1, come to a kickoff rally at the Holiday Inn Express located at 3741 Thistledown Drive in Raleigh.
Click here to RSVP/Sign up
The "8th Annual Walk to End Lupus Now: Raleigh" will be held on Sunday, May 1 at North Carolina State University's Centennial Campus, located at 851 Main Campus Drive. To register now or to learn more about Lupus and local support services, visit
www.lupusnc.org
.
For more information, click here.
Report a Typo