FAYETTEVILLE (WTVD) --
Two Fayetteville families are shivering through this cold with no heat, and no hope of getting warm anytime soon.
They rent homes, and both are waiting for their landlords to take action.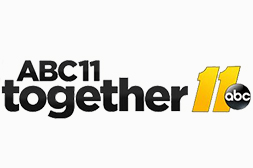 "You have to wear a lot of coats," Fayetteville resident Shirley Ray said at her Camden Road home, where it's been as cold inside as it has been outside.
It's a harsh reality for these two families, and they are dreading the next few days.
A pot of boiling water, and a couple of space heaters are all that Ray has to heat her home.
"And when it's really cold outside, you can't feel those at all," Ray said. "You're just burning electricity, and you don't feel no heat at all, so you just keep bundled up together."
A hole in the dining-room ceiling is where a gas heater used to be connected, but it broke down and Ray and the landlord are at odds over who should replace it.
She says she doesn't have the money, so she and four others including her daughter-in-law Vanessa Robinson and two small boys share what little heat there is.
"We sleep together, bundled up as much as you can," Robinson said.
"I will take that one heater where everyone can get a little heat, a bit," Ray said. "Let them have 30 minutes each, then I bring it back to my room."
Across town, it's just as cold for Tiffany Alexander, her husband and her eight children. Her heat's been out a week. She waits for her landlord to fix the furnace while her family shivers with two tiny space heaters.
"But the temperature's dropping," Alexander said. "It was 19 degrees the other day. and I'm in here with my children."
"I have a 3-month-old. She just turned 3 months today. I have a 1-year-old, a 6-year-old, a 10-year-old, an 11 year-old, a 7-year-old, 8-year-old and a 15-year-old," Alexander said. "This is what we have to deal with. They have to sleep, get up to go to school. Sleeping in the cold because it's just not enough."
It's not a case of an unpaid bill, but rather a faulty part for a broken furnace.
Alexander, who moved her family to Fayetteville from South Carolina in June, is in Section 8 housing along Chesterfield Drive. She said her landlord immediately began working on the furnace, which blew during the MLK holiday. Earlier in the week repairmen came to take a look, and determined this was no quick fix. A part needed to be ordered.
"We need that piece," Alexander said. "It can't just come from Lowe's. You got to order it. I don't know from where. They didn't give me much information."
As Alexander awaits the furnace part's arrival, she said her landlord has brought over two small space heaters, and they've used the electric stove to keep warm, but only in bursts, to avoid setting a fire.
And for both families dealing with the cold is a daily struggle to survive.
"I don't know what else to do," Alexander said. "I just put it in God's hand and He will make a way."
ABC11 was able to connect with a DSS representative who works with the Crisis Intervention Program in Cumberland County, and notify her of Alexander's situation. Through the Salvation Army, CIP offers energy assistance funds.
Because this isn't a case of an unpaid bill, DSS sent an assessment team to the residence to see how they can help the family.
Alexander can also report the issue to the Fayetteville Metropolitan Authority for further assistance beyond her landlord. She told ABC11 she had not done that yet because the landlord seemed to be tending to the issue.
CUMBERLAND COUNTY HEAT CRISIS PROGRAMS
If your family is in need of energy assistance (to pay bills), there are still funds available for the heating crisis. The program, administered by the
Cumberland County DSS
, includes an application process through the Salvation Army on Southern Avenue.
The following requirements come from Cumberland County:
The CIP program will be in effect until all funds are exhausted or the state fiscal year ends. If a household is eligible and funds are available, the household may receive more than one payment during the fiscal year. Benefits may vary based upon the amount needed to alleviate the crisis; however, benefits cannot exceed $600 and/or the maximum allowed benefit amount per State fiscal year.
You'll need a picture ID for head of household, SSN for household members, and verification of energy-related crisis (i.e. past-due bill, verification of no heating source), and a verification of household income
.
Each household will be evaluated on a case-by-case basis to determine whether there is a crisis. Once a crisis is determined, an applicant must first check for help through other emergency assistance programs, such as Energy Neighbor or Share the Warmth. If an applicant is approved, funds are paid directly to the utility provider. Applications are accepted Monday through Friday from 8 a.m. to 4:30 p.m. at the Salvation Army office located at 1047 Southern Ave. For more information, call the Salvation Army at (910) 307-0359.
Report a Typo