RALEIGH (WTVD) --
City of Raleigh utility crews are on high alert as the Triangle braces for bitter cold this weekend.
Officials with the public utilities department say water main breaks occur more frequently during the winter months.
RELATED: WATER MAIN BREAK SHUTS DOWN RALEIGH BREWPUB
Crews have responded to 156 emergency repairs since July.
Boylan Bridge Brewpub remained closed after a water main break Wednesday caused a wall to collapse inside a woodworking shop below.
According to the city, it happened in the business's private fire line, although the cause is unclear.
The building has been declared unsafe. There is no timeline for when it will reopen.
"My computers are in there, and I don't have any power and they have all the payroll information," said pub owner Andrew Leager. "My employees, they've got to have jobs. I'm really concerned for them."
Some of the oldest pipes in Raleigh are below downtown streets.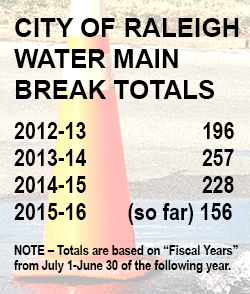 Crews have found some that pre-date WWII.
"We see a freeze-thaw effect in the soil this time of year and that can actually put stress on the pipes, and you'll have a lot more incidents of water main breaks. One of the dangers also associated with this is water down in the street, especially overnight when we get into the teens," said Ed Buchan, environmental coordinator for the City of Raleigh Utilities Department.
The city has an asset management plan in place to deal with aging pipes.
More than $1 billion has been set aside to replace and maintain infrastructure during the next ten years.
"We estimate the replacement value for the buried infrastructure in Raleigh to be over $6 billion. That is a lot of money, and all of that is going to have to be replaced at some point," Buchan said.
Report a Typo