DURHAM (WTVD) --
She may look more cute than scary, but this basset beagle mix had a mean enough bark to keep an intruder from entering a Durham home on Saturday night.
A man tried to open the door at the Colonial apartment complex on Chapel Hill Road. A 14-year-old resident says her hound dog, Allie, scared him away.
Amy Allardyce and her daughter, Keegan Allardyce, were upstairs in their Durham apartment when Allie started barking.
When they came out of their bedrooms and the dog got to the top of the stairs, Amy Allardyce said she could see a man with a knit cap standing on the landing inside.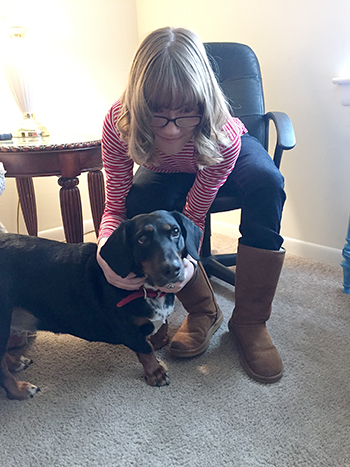 Keegan Allardyce, 14, said when she came and looked down the stairs, "somebody was standing at the bottom of our stairs."
She said she grabbed the dog because she "didn't want her to get hurt or go down there, and so she started barking and I told them 'I don't know what she's gonna do. Get out of my house.' "
The intruder, apparently spooked, fled.
Although the police found no sign of forced entry, they pulled fingerprints from the door, a light switch, and got a footprint from the floor. Amy Allardyce said she doesn't remember if she or her daughter may have left the door unlocked.
Allie's owners said it wasn't just her bark but a low growl that helped scare away the potential burglar. The Allardyce family said even if the person is never caught, Allie will always be their dog hero.
"Allie just like went around back and forth in our rooms freaking out," Keegan Allardyce said. "But she saved our lives."
Report a Typo