WAKE FOREST, NC (WTVD) --
Kaylyn McGuyrt is proud of her work and rightly so. At just 26-years-old, her stunning wedding cakes are featured in a prestigious bridal magazine, and she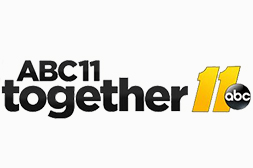 is already the head cake decorator at the popular
Sweet Traditions bakery
in Wake Forest.
Well she was. That is until a Sunday afternoon of fun while riding ATVs at a park in Goldsboro with her husband Adam went horribly wrong.
"I went from a healthy 26-year-old girl to having my dominant arm lost in a matter of seconds," said McGuyrt.
It happened when her ATV went through a mud puddle and rolled over on to her arm. It was almost completely severed at the scene.
"I do remember everything. I remember saying 'my arm fell off,'" she recalled. "I knew as soon as the accident happened I'd lost my arm."
Five months later, McGuyrt's attitude is nothing short of remarkable. She's not back at work yet, but she is practicing on retrofitted tools using her left arm - something that's extremely difficult. The arm she lost was her dominant right arm.
"She's family," said Leane Boksleitner, owner of Sweet Traditions.
Sales have been impacted since the accident 5 months ago, but McGuyrt's is more than a financial loss. Boksleitner is holding McGuyrt's job and the only thing holding her back is an arm.
The arm McGuyrt desperately wants is called an
i-limb
. The amazing piece of technology allows movement of fingers, wrists, grasping objects, and so much more. McGuyrt's insurer, however, denied coverage for the new arm, not once but three times.
"The third time I was devastated," said McGuyrt.
The reason for the denial is the insurance company said the limb is not medically necessary. Prosthetist Chris Baughman of
Eastpoint Prosthetics and Orthotics in Raleigh
explained denial happens all the time, but that doesn't mean it's right. He said for McGuyrt not to give up, and she's not.
"I'm ready to get my life back. I want to show people I can do it. You can do anything despite your disability, so I'm ready."
McGuyrt told us she doesn't want to start an online fundraising account. She thinks the cost of the arm, which can exceed $150,000, is too insurmountable and she doesn't want it to look like she's having a pity party. We will keep you updated.
Report a Typo