CARY, N.C. (WTVD) --
It was another successful race for the Allscripts Tobacco Road Marathon and GNC Half-Marathon in Cary on Sunday. More than 4,000 runners turned out, including the Guinness World Record Holder for running the most marathons.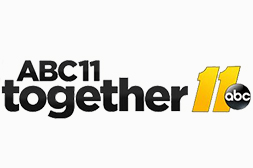 Larry Macon has completed 1,635 marathons.
"It's possible because I'm really old!" Larry said.
This race has a reputation as being fun, fast, and flat, which makes it a big draw for runners from all over the area. Some of them came to raise money for their own causes.
The Run4RaleighVets running group was there at dawn, and we got a chance to speak with them about their organization. Army veteran Billy Dewalt told ABC11 his group was running to raise money for
MVRC
.
Military and Veterans Resource Coalition is a voluntary partnership of military, veteran, and civilian organizations in the Triangle that work together to support all generations of military and military families.
Part of all the money raised at the Tobacco Road Marathon goes to various charities, including the Red Cross. About $600,000 have been raised over the last six years, thanks to the event being run entirely by volunteers.
"Really, it's all volunteers," said race founder Kaz Yahyapour. "A lot of good people helping here. We could not do this race without the help of volunteers, it takes over 700 volunteers for this race."
Matthew Hamidullah was running his 300th marathon on Sunday. It's especially impressive, considering he only began running marathons in May of 2010.
What's Hamidullah's advice for running a great marathon? "Don't quit!"
Some brave members of our ABC11 team also ran the marathon. Caitlin Knute, Joel Brown, Steve Stewart, and Tisha Powell all laced up their sneakers for Sunday's race!
While there were big smiles after our team finished, we didn't win. Instead, we left that to the pros.
"I was really happy about [winning]," said Christian Thompson, who won the men's half-marathon. "My boss was going fast, and I was hoping to run just a little bit faster. I was really happy with my effort today."
ABC11 is a proud sponsor of the 2016 Allscripts Tobacco Road Marathon and GNC Half-Marathon in Cary. Proceeds collected go towards charities serving the local community. For details go to
www.tobaccoroadmarathon.com
.