RALEIGH (WTVD) --
North Carolina voters hit the polls for Tuesday's primary elections and there were reports of long lines at some polling places.
Live: Watch live national primary coverage from ABC News here
The State Board of Elections held an emergency public meeting by teleconference to consider extending closing times at precincts affected by delays in excess of 15 minutes.
In every election, a voting place opens at 6:30 a.m. and shall be closed at 7:30 p.m. If the polls are delayed in opening for more than 15 minutes, or are interrupted for more than 15 minutes after opening, the State Board of Elections may extend the closing time by an equal number of minutes. They decided to extend the closing time in certain precincts in Edgecombe and Carrabus counties by 30 minutes.
Officials said in Carrabus County, a precinct judge did not show up on time. In Edgecombe, voting was affected by a lockdown at a middle school.
"I thought I'd need to get out early before the crowd got here," said voter James Brown of Wake County. "It's important to vote because the politicians make the decisions about what goes on in our everyday lives."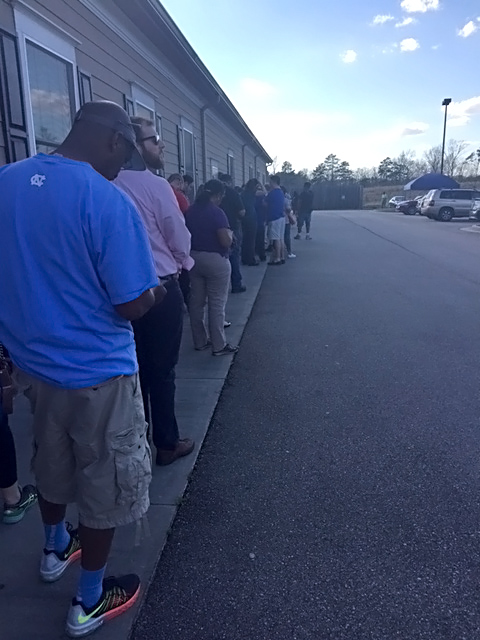 Another Wake County voter, Sharon Altmon hopes to beat the crowd Tuesday morning.
"I'm on my way to work so I thought it's better to just try to get out early and do it now," Altmon said. "Because I know hopefully it'll be crazy later. I hope everyone's going out to vote."
North Carolina legislators decided nearly three years ago to move the presidential primaries up the states' pecking order from May to wield more influence in choosing party nominees.
Having issues voting? Click here for important election information you will need to know before heading to the polls
But six months ago they also agreed to move all other primary races up to Tuesday. That was expected to save $9.5 million for holding an extra election and to encourage higher turnout for other contests. Redistricting rulings last month, however, still will mean separate congressional elections in June, losing the planned savings.
You'll see the Congressional candidates listed on the ballot. Because of redistricting, you'll have to vote for those candidates during the Congressional primary election on June 7.
But Dr. Lee Cooley of the state Board of Elections, said you should still fill out the entire ballot.
"That keeps down confusion because voters will go in and they'll say do I vote for Senate or is it the House I vote for? Or I don't vote at all," Dr. Cooley said.
Here's a look at the primary campaign, what election-day voters should expect Tuesday, and the key non-presidential races:
WHAT'S AT STAKE?
North Carolina Democrats will distribute to party presidential candidates 107 convention delegates and state Republicans will allocate 72 delegates based on the primary results. Both state parties are allocating their delegates proportionally, based on results by congressional districts or statewide. Libertarians also hold a presidential primary, although delegates aren't apportioned based on the results.
Down the ballot there are party nomination races for governor, U.S. Senate, Council of State positions, the legislature, trial-level judgeships and county commissioners. In races where only one party fielded candidates, Tuesday's winners also win in November, barring late independent bids.
All voters also are asked to decide whether to authorize the state to issue $2 billion in bonds for higher education and government building projects.
INTERESTING RACES
Republican Gov. Pat McCrory and Democratic Attorney General Roy Cooper are considered heavy favorites in their gubernatorial primaries. Challengers Robert Brawley (Republican) and Ken Spaulding (Democrats) hope anti-establishment backlash will help them. The same holds true for Republican Greg Brannon, the top rival to GOP U.S. Sen. Richard Burr. Deborah Ross led the fundraising and endorsement contest ahead of the Democratic Senate primary.
In Council of State races, Democrats Linda Coleman and Holly Jones ran neck-and-neck with fundraising in the lieutenant governor's primary. Republicans Buck Newton and Jim O'Neill are vying for the nomination for attorney general.
In the General Assembly, a handful of Republican incumbents face tough challenges, particularly in the House, including political friends and enemies of House Speaker Tim Moore, R-Cleveland. State Sen. David Curtis, R-Lincoln, may be the most vulnerable incumbent in his chamber, challenged by former Sen. Chris Carney.
TURNED-UP TURNOUT
Competitive presidential candidates certainly contributed to record in-person early voting for a primary, even though the early-voting period is now 10 days, down from 17 previously.
The State Board of Elections says 684,500 people voted at early-voting sites statewide before they closed Saturday afternoon, or 10.5 percent of the state's 6.5 million registered voters. Almost 26,000 more people had returned mail-in absentee ballots as of early Monday.
In the May 2012 primary, the early in-person vote total was 492,500, or 7.8 percent of registered voters.
Will the high early-voting turnout translate into high overall turnout? The state's modern-day record for a primary was in May 2008, when 37 percent of the 5.8 million voters cast ballots. That featured a Democratic primary between Hillary Clinton and Barack Obama.
HOW'S VOTER ID GOING?
While litigation challenging the state's voter identification requirement is pending, there haven't been reports of pocketed or widespread problems associated with the mandate, which took effect with early voting March 3 and continues Tuesday.
The latest totals show 865 provisional ballots were cast during early voting by registered voters who said they didn't have a qualifying photo ID - or 0.1 percent of all ballots cast so far.
Voters need to bring one of six qualifying IDs, or they should be prepared to fill out a "reasonable impediment" form explaining why they couldn't obtain an ID and provide other identifying information. Doing so usually means the provisional ballot will be counted.
Provisional ballots from people who say they forgot their ID won't count unless they present an acceptable ID at the county elections office by early next week. More information is available at
http://voterid.nc.gov/
ANYTHING ELSE TO KNOW?
Polls are open Tuesday for 2,709 precincts statewide from 6:30 a.m. to 7:30 p.m. Traditional absentee ballots must be turned in by Tuesday to one's county election office or must be postmarked by Tuesday on order to count. In most cases, those mailed ballots must be received by later in the week.
There are also no primary runoffs this year, so the candidate with the most votes win, no matter the percentage received.
Because of a pending court case, voters who mistakenly show up at the wrong precinct in their county Tuesday will still have their choices count for races not specific to their home precinct. A 2013 law barred out-of-precinct voting on election day.
Wake County Board of Elections Dir. Gary Sims is urging voters to check their voter registration before they head out to vote.
Sims said people are mistakenly showing up at early voting sites, thinking they can cast their ballot, only to find those sites are closed today.
Lake Lynn Community Center in Raleigh, Northern Regional Center in Wake Forest, and Apex Community Center are not being used as polling places on Primary Election Day.
Sims said the board of elections removed all of its signs from those community centers when early voting ended, but campaign signs left at the entrances were leading voters to believe they could vote there on Tuesday.
Lake Lynn Community Center staff eventually posted a sign outside the front doors, informing voters it was not a voting site, and directing them to call the Wake County Board of Elections to find their proper polling place.
Report a Typo