FAYETTEVILLE (WTVD) --
Fayetteville police went into action Monday, with their weapons of choice: hand tools.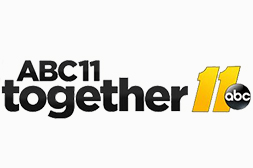 Two officers used those tools to put up chain locks not only to keep something out, but to keep Takeasha McLean's precocious 3-year-old son in.
It began and ended at Melvin Place Apartments on Rosehill Road with a young child's adventure -- and a mother's nightmare.
It was about 2 a.m., dark and cold, when a newspaper delivery person spotted the little Fayetteville boy wandering in the street alone.
Now that the boy is safe, police have stepped in to help make sure the toddler doesn't do it again.
"When I first heard them coming up the stairs, I was just like what are you doing in my house? McLean said. "They asked if I had a son living there; I said 'where is my son?' They calmed me down and told me what's going on."
In the wee hours, little Ajani unlocked the back door of her apartment, and walked out. He made it about 100 yards to Rosehill Road, where he was spotted by a truck driver who called 911.
"There is this little kid outside, no pants, nothing. No more than probably three or four," the driver said in the 911 call.
Police searched the complex and found McLean's back door open. That's when officers Christopher Donovan and Joshua Walcott purchased and installed two chain locks, out of the reach of little hands.
Their commander called it the right thing to do.
"I think it's expected of our officers," said Fayetteville Police Capt. Chris Davis. "We want them to do the right thing, I think it becomes, they are not just thinking about it, they are just doing it."
And in a neighborhood where police aren't always trusted, McLean has a change of heart.
Tonight she can sleep easy. Hoping that for now her son just dreams of a big adventure.
"He said, 'I got to learn how to be a man,' " McLean said. "That's my baby, he's trying to grow up already."
McLean says she thanked the police officers who installed the locks, and she plans on thanking that newspaper driver who found her little boy, and kept him warm till police arrived.
As for why Ajani slipped out in the middle of the night? He said he was going to visit his grandma.
Report a Typo