RALEIGH (WTVD) --
ABC11 Together helped a North Carolina soldier get the military sendoff his family wanted and fought for.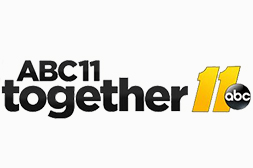 Leonard Johnson, 82, passed away on March 19 after a long illness. He leaves behind a wife, children, 18 grandchildren and eight great-grandchildren.
Johnson served in the Korean War in the United States Air Force and was a lifetime member of the VFW. His records, though, were lost in a military facility fire. When he passed, his family had no way of proving he had been honorably discharged and they couldn't get a military funeral.
On Friday, ABC11 Together made some calls to the local VFW. They then contacted the State VFW which paid for the color guard from Clemmons to give Johnson a proper send off.
"The service that he performed so many years ago was honorable it was the right thing to do at the time and this was the right thing to do to honor him at this time," said Russell Chambers, Commander Post 9010.
Monday's service was complete with a 21-gun salute, a bugler and a flag presentation, something his family was so happy to see.
"He was an incredible man, he fought for his country, I was proud of him. It was just an incredible service today. He'd be up there smiling today, knowing that we did this," said Leonard Johnson, one of Johnson's sons and namesake.
Johnson was cremated and the service was held at the City of Oaks Funeral Home and Cremations on Green Road in Raleigh. In lieu of flowers the family asked for
donations to be made in Johnson's name to the American Cancer Society
.
Report a Typo