DURHAM (WTVD) --
Nine students at Duke University are now in their fifth day of protest, occupying one of the main administrative buildings on campus.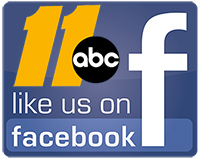 Protesters are alleging deep and widespread institutional racism and discrimination at the university and are demanding the ouster of three administrators as well as a list of other requests, including a $15 minimum wage for all campus workers.
North Carolina NAACP President the Rev. William Barber showed up Tuesday afternoon with words of encouragement for the crowd gathered outside the Allen Building.
Security at the school shuttered the building, citing safety concerns before the start of school Monday, a move protesters say is intended to make them look bad.
"The implication that the occupation is not peaceful and has disrupted the normal functioning of the Allen Building is completely untrue," said graduate student Felicia Arriaga. "Who is unsafe here? Faculty and administrators can easily access their offices and meeting spaces. There is no need for classes to be canceled or even moved to another location. Duke University is only choosing to close the Allen Building to cancel classes and cast our campaign in a negative light."
That campaign is intended to bring attention to what some students and critics of the school say is a basic disrespect for workers.
Late Tuesday evening, the university released a statement saying the building would remain closed, with limited access.
"The Allen Building will be closed for regular business on Wednesday, April 6, with limited access for Duke employees who work in the building. For their purposes, the building will be accessible from 6 a.m.- 8 p.m. through the side door on the ground-level adjacent to the parking lot. No visitors will be permitted. The administration suite on the second floor will remain closed. Classes scheduled for the Allen Building will continue to be relocated."
Lisa Adkins, a former Duke University manager in Parking and Transportation Services who was terminated for insubordination, said "years and years and years of racism have gone on on this campus."
Adkins says one of her managers once told her " 'You're alright for what you do out in the field but you're not the person I would want answering my phone down in Benefits.' How do you take that? I think I speak very clearly; I think I'm very professional."
The University hasn't done an on-camera interview with ABC11.
Report a Typo