RALEIGH (WTVD) --
Lee Creighton never imagined he would be virtually unscathed after a frightening accident that would leave his car totaled - but the mathematics Ph.D. with a masters in French literature also never imagined he'd be unemployed for the past five years either. Now he's looking for your help to buy a used car so he can go to job interviews.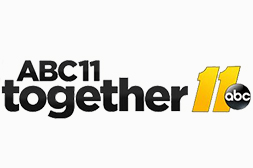 "Well I was driving down I-40, I was returning from my parents' house and I hit something slick and I'm not sure what it was - mud, oil, something," Creighton said. "But in an instant my car started spinning, 360 once, twice and as I finished the second spin I found myself underneath an 18-wheeler, a semi.
Donate to Creighton's GoFundMe page here
.
"So my two of my A pillars broke, the windshield caved in, and I was dragged along by the 18-wheeler for just a bit, until I hit their back tires. Their back tires, of course, spun me away from them, and just by the angle, I spun right across I-40 again, landing in the median."
Creighton said he walked away from the accident scene with no real injuries, just a cut along his forehead, a scratch near the side of his face and a cut on his finger.
"Two spins, under an 18-wheeler and a third spin across the median - I couldn't be any more lucky," he said. "By everything that's right, I should probably not even be here talking to you.
Although he feels lucky to have walked away with his life, Creighton said he's in a very tough spot right now because his car is totaled and he's unemployed, lives by himself and takes care of his aging parents in Dunn.
Check out Creighton's LinkedIn page here
.
"I worked at SAS for many years. I worked for the government - I worked as a person at the legislature who investigated money matters - but in the past five years, I've not had a job," Creighton said. "I've applied to hundreds of jobs and not a whisper, not a soupcon of contact, just lots of cover letters and lots of resumes going out and nothing coming back."
Watch Creighton demonstrate his math-teaching skills in a statistics tutorial:
Creighton hopes to raise $5,050 to buy a used car to get back to work on finding a job. His friends have taken to social media in support.
The out-of-work Ph.D. used to host trivia night at Linda's Bar and Grill in Chapel Hill.
Try your hand at one of Creighton's trivia quizzes here:
One of his friends, Alexandra Fox, said Creighton used to pick up the dinner tab for his friends on trivia night when he was employed and making money. She said it's what motivated her to donate and spread the word.
Creighton said a donation in any amount would mean the world to him.
"It's the greatest thing they could ever do," he said. "There's simply no way I can find a job, or even go to a job interview, or even go to a job without a car."
"What's so frustrating is that even though the car I had was 13-years-old, it was running - running like a top, in fact - and now I don't have that," Creighton said. "So it's simply a gift - it's a gift of life, it's a gift of a normal life, as I've known it, as you know it, and as everybody else knows it."
After years without a job, Creighton said he doesn't have much left in the way of funds, and while raising money for a car is his short-term goal, landing a job is his dream.
"It's funny to set your dream as finding a job, but after five years when you've had this long dry spell and, you know I've depleted savings, I've depleted retirement; I want to get back to my life when I had a job."
Report a Typo