DURHAM (WTVD) --
CrossFit and canines - an unlikely pairing but it's an exercise in success for a Durham nonprofit.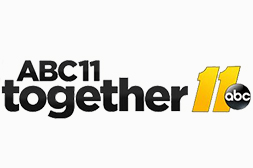 It's partnerships such as these that help the folks at the Coalition to Unchain Dogs accomplish their mission - getting dogs off chains and into more loving environments.
So far, they've helped hundreds of families.
Find out more, including how to help
"Along with helping dogs, what we're truly doing is helping people help their dogs," said Lori Hensley, director of operations.
But the organization relies on help from volunteers and donors, such as the warriors at
CrossFit Durham
, who staged a competition to raise not money, but dog food.
"Right from the get-go, I think the day or two after I announced it, we already collected four- or five-hundred pounds," said David Rubin of CrossFit Durham. "People were running to Costco and Walmart."
Two weeks later, they had 3,509 pounds for the pups, and some extra six-packs for themselves.
"They were all excited about it," Rubin said. "Like I said, we have a very dog-friendly community; from time to time there's dogs running around in here, so I knew it was going to go over well."
"This is a huge help to us," Hensley said."
Help that's needed since the Coalition to Unchain Dogs not only gives out food to families with limited means, they also offer spay and neuter services. And they build fences to keep the dogs off those chains -- forever.
"We're very fortunate that we are able to continue to provide services like this to the people in Durham who need it most," Hensley said. "And just having our community partners like CrossFit Durham step up and help with the dog food is just a tremendous help to our organization."
If you would like to find out more about the Coalition to Unchain Dogs or help out, just
click here
.
Report a Typo