FAYETTEVILLE (WTVD) --
Some Fayetteville residents' excitement about a new Publix has turned to shock as business owners are finding out they'll be evicted in order to make way for the new supermarket.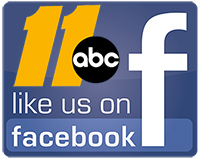 Fourteen owners in the Tallywood shopping center learned they'll have to move out and the shopping center will be bulldozed to the ground. That includes the iconic Tallywood tower which has been there since the 1960s.
For Chrissi Winter, the owner of The Clippers Hair Salon, the clock is ticking. She's been told they need to be out before the end of July. In March, it was announced that Publix would be building at one end of the shopping center.
Winter said she's heard Publix would be taking over the whole shopping center. However, she says she is looking forward to a new beginning somewhere else.
"If you're going to make a move, you need to take a step up, not a lateral move," Winter said. "So wherever we do move it would be better, it would offer more, and it would be nicer. So it would definitely be worth following us for."
Several other business owners say they have already found new locations and will start moving in May. There is no official word on when demolition will begin. Publix has not released any details on a date for a grand opening.
Report a Typo