DURHAM COUNTY (WTVD) --
There are more questions surrounding a former dairy farm in Durham County.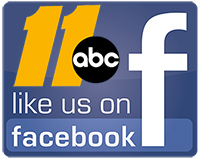 The Kingsmill Farm on Kemp Road has been the focus of I-Team investigations into safety and environmental concerns and now, new numbers from Durham County show potential health concerns turning up in the creek that runs adjacent to the property.
The City of Durham has been monitoring water coming away from the Kingsmill Farm since 2004. Since then, city environmental officials have repeatedly found high levels of contaminants, and, specifically fecal coliform.
"It's poop," said Upper Neuse Riverkeeper Matthew Starr, "it's fecal bacteria."
A spokesperson for the state Department of Environmental Quality pointed out that the bacteria could have come from anywhere - septic tanks, residential run-off, even Canada geese. But Starr says it's rare to find numbers as high as those in the city's data.
"It's just so much fecal bacteria," Starr said. "I mean, the standard is 400 and you're looking at 60,000, which is generally as high as the tests will go. So, you could be talking more. And not to mention, this creek runs into Falls Lake. It supplies over a half million people with drinking water. It has over a million visitors. So it's not only an environmental issue, it's you, it's me, it's us."
According to the attorney for the family that owns the land next to the creek, it started as a dairy farm in 2000. Operations slowed a decade later after the owner died. His family began accepting what's called "beneficial fill," the family's lawyer says, to flatten the property out for beef cattle.
A spokesperson for the state tells us there was at least one waste lagoon on the property when it was a cattle farm, which was a source of at least part of the problem.
The City of Durham complained to the state in 2012, and we're told inspectors found a crack in a 2 inch pipe coming from the lagoon and causing leaking into the creek. The owner was fined $2,000.
To read much more on this story and ABC11's investigation, click here.
Another complaint in 2014 resulted in an $11,000 fine.
The city didn't test in 2015 and, so far, 2016 looks better than previous years. Still, at least one reading in February 2016 showed fecal bacteria levels above the limit.
Starr is doing his own investigation. He says he'll submit samples he took for testing. Despite the state's history of enforcement, Starr says he can't shake one lingering question: how could it have been so bad for so long?
"2004," Starr marveled, "From the year [the City of Durham] started sampling, this stream has been polluted, which should not ever be allowed to happen."
Report a Typo