RALEIGH (WTVD) --
As part of ABC11 Together we want to thank all of you who came out to join our "Stogner Strong" team in the Walk to Defeat ALS.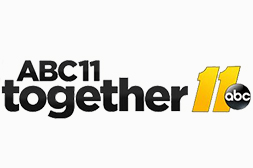 Larry Stogner was there as a part of our team, where he was greeted by former coworkers and faithful fans alike. Stogner was diagnosed with the neurodegenerative disorder in 2015. Although he left the anchor desk, he's remained active in helping raise money and awareness for ALS.
"He's been amazing. I think we all feel like we know him, he's come into our living rooms nightly for years. I think it really hit a lot of people hard when he was diagnosed and announced that and shared it so personally," said one of the event organizers, Melanie McCullough. "He's been a great advocate letting people know what he's going through, and bringing great awareness to the cause."
This year marked Stogner's second Walk to Defeat ALS. However, unlike last year when he walked on his own, this time he was pushed in a wheelchair by his wife. It's a sign of the disease's inevitable progression. But, those who know him say he remains in good spirits.
"We call our team 'Stogner Strong,' and Larry is staying strong," says ABC11 General Manager Caroline Welch. "We know this is a devastating disease but he, like I say, is keeping strong, and visiting family, and still working to raise awareness."
And while our ABC11 family walked to honor Larry, there were thousands of others who walked to honor their friends and family members with ALS, including those who have already passed away from the disease.
"He was just a terrific soul, his name was Eddie Rebenda," says walker Pat Skelly with the team Eddie's Eagles. "He passed away two years ago, he was 27 years old. He was going to NC State for his PhD, as well as working for IBM, and we miss him a great deal."
"My husband Larry [Thompson] had Lou Gehrig's disease. He was diagnosed about three years after he got out of the Army, retired, and died about two years later. So he died in '83. I told the doctors the night that Larry died that I hoped I'd live to see a cure for this," says June Thompson who founded the local ALS chapter.
Organizers of the walk say hopefully with fundraisers like this they are getting that much closer to finding a cure.
Read More: 2016 could be pivotal year in fight against ALS
"It's critical that we keep the momentum going especially after the Ice Bucket Challenge," said Dileep Dadlani with the ALS Association. "We expect to raise almost $405,000 here today with close to 4,000 walkers. But, we need to do more, quite frankly. ALS has made tremendous strides within the past few years, but we know that more needs to be done. And we want to continue to have these events to raise money until ALS is a chronic disease and eventually part of the history books."
Report a Typo