DURHAM (WTVD) --
ABC11 Together is proud to highlight an organization that helps raise money to help those affected by childhood cancer.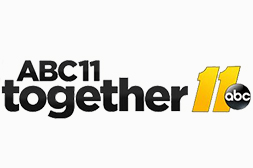 From a fun 5K race to the head shaving event it's best known for, the St. Baldrick's foundation held another successful fundraiser Sunday.
CLICK HERE TO DONATE
For the sixth year in a row, folks showed up at the West 94th Street Pub in Durham to brave the shave.
"This will be my fourth year," said Paul Chivers. "Both my kids parents are cancer survivors and I just think that a child that doesn't have a chance to go any further because of cancer, it's hard to deal with."
This annual fundraiser put on by the St. Baldrick's Foundation helps raise money for childhood cancer research grants.
"We are the only nonprofit foundation that's doing 100 percent to raising a cure for cancer for kids," said Emily Sexton with St. Baldrick's Durham. "The importance of that is we want to kick cancer of the way and save these kids."
Raising money through fun events like this also helps bring hope to infants, children, and teens fighting childhood cancers. That includes the Hulsey family, who relocated from Wilmington so their five year old daughter Sadie could receive treatment here for a rare, aggressive form of leukemia.
Click here to read more on Sadie's struggles from a previous ABC11 story
Because conventional treatments haven't worked, new therapies could be her next best hope.
"Sadie has undergone the only curative protocol twice and it's harsh ugly intense chemo and bone marrow transplant's and they both have failed," said Sadie's mom, Candace Hulsey. "So now her amazing doctor and medical team are looking at other kind of novel treatments to see what we can find."
This year both Sadie and 2-year-old Ridge Manning, who has an inoperable brain tumor, were chosen as St. Baldrick's honorary families. And while they face their own personal battles, this weekend they got to see that they're not alone and there are others, including complete strangers, who are supporting them.
"Man, this is amazing. I love this," shared Candace Hulsey. "I love genuine altruism. You don't see it all that often in the world, but this is amazing."
For more on this year's honorary families or to make a donation, click here.
Report a Typo