CARY (WTVD) --
Next time you get tickets for a concert or show, make sure you know where your tickets are coming from. Industry experts say ticket scams are on the rise both through the internet and at venues themselves.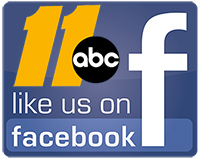 For John Gentry, it was something he'd never really thought about. "We drove all the way to Charlotte, had a hotel booked and everything and it just turned out to be a complete flop."
Gentry says the tickets he'd gotten on-line from a third party vendor were duplicates. He'd been scammed.
"Both of the stubs had been duplicated and the people who went in two people before us ended up scanning the tickets and ours wound up being sold out," he said. "$450-$440 down the drain and, yeah, it was just terrible."
Industry insiders say it's happening more and more; old school ticket scams, reinvigorated by the internet.
"My advice to people?" Gentry pondered. "If you buy tickets on Craig's List or whatever the case may be, make sure you get the real ticket with the stubs and not something that's easy to print or copy."
And that's exactly what experts say.
Liz McDonald runs Koka Booth Amphitheater in Cary. "We have print at home tickets for some of our shows. And those print at home tickets they will then copy on a regular copy maker. It's that easy."
At Koka Booth, like other venues in North Carolina and around the world, it's the barcode on the ticket that gets you through the gates and barcodes are easy to duplicate.
"It's not a few shows," McDonald emphasized, "it's every show."
What's more, McDonald says scammers are posing as scalpers and getting savvy about marketing themselves on the internet.
"No matter how much money we spend in putting our name at the top of the Google search bar, those scalpers are spending more money," she said. "If you type in tonight's show, Practical Jokers, into a Google search, you'll see scalper tickets on every single line on the first page. Our site doesn't come up until the second page. That is how much money those scalpers are spending on those Google search words."
Another way McDonald says scammers are getting barcodes is from social media sites like Facebook. Fans, excited about the event, will post pictures of their tickets (barcodes and all), enabling scammers to pull them, copy them, and print them on forged tickets.
"When you post about it on social media, don't post your actual tickets," she advised. "If you do, put your thumb over that bar scan code."
McDonald says venues like Booth Amphitheater are trying to cut down on scams where they can but says it's ultimately up to the buyers.
Her advice? "Go to the venue's website first and go that pathway."
That's something John Gentry says he'll do from now on. "You really gotta be careful."
Report a Typo