RALEIGH (WTVD) --
Banners are up as record crowds prepare to take over Fayetteville Street this weekend for 'Out Raleigh,' one of the city's largest LGBT festivals.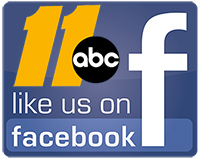 Organizers, who've been planning the event since November, also expect more protests over House Bill 2.
"This is not something we were expecting, not something we saw coming, but for the LGBT community it's going to be a very important lightning rod for this situation," said James Miller, Executive Director of the LGBT Center of Raleigh.
Miller has been busy fielding phone calls at the organization's downtown office.
"We've almost tripled our walkthrough right now. Our phone lines are at eight times their capacity," he said.
As participation peaks, a recent poll by conservative-leaning NC Civitas Institute shows Gov. Pat McCrory's approval rating has dipped to a new low.
Of 600 people polled, 39 percent of voters view him favorably, the lowest rating since he took office.
About 46 percent say they are more likely to vote for his Democratic opponent, Attorney General Roy Cooper, if the election were held today.
Read all ABC11 stories about HB2 here
And 36 percent say they would vote for McCrory.
"In terms of saying that House Bill 2 hurts him, no. It's the publicity that hurts him, and he can't do anything about that," said NC Civitas Institute President Francis De Luca.
De Luca said he does not believe the new law will hurt McCrory in November.
SEE THE COMPLETE CIVITAS POLL HERE (.PDF)
Nearly half of those polled felt McCrory and the state legislature were right in passing HB2.
"House Bill Two will either help Pat McCrory get re-elected or it won't have an influence. It's not going to hurt him get re-elected," De Luca said.
The governor's office highlighted new tourism data Monday, reporting nearly $22 billion in visitor spending in 2015.
Visitors bureaus across the state have reported numerous cancellations amid pushback from HB2.
Raleigh Convention and Visitors Bureau estimates $3.2 million in lost business, although tourism leaders said there were no new cancellations impacting Wake County in the last week.
HB2 remains in the national spotlight.
U.S. Secretary of Education John King called for a repeal of HB2 Monday afternoon describing it as a "hateful law."
He added, "My hope is legislators will realize they've made a terrible mistake."
Comedian Larry Wilmore also took aim at North Carolina at the annual White House Correspondents' Dinner.
"Donald Trump said that if Hillary Clinton was a man, she wouldn't get 5 percent of the vote. OK, all right, all right. First of all, if Hillary Clinton was a man, her biggest problem would be finding a bathroom to use in North Carolina."
Report a Typo