RALEIGH (WTVD) --
In the shadow of the state capitol, Leslie Woods works 80 hours a week, keeping a close watch on every aspect of her juice bar and cafe, Raleigh Raw.
"We have an exact pulse on where every single dollar of our money is going and if something is off, we have checks and balances," said Woods.
She cannot understand why state agencies are not keeping an equally close watch taxpayer purchased items.
An ABC11 I-Team investigation discovered losses of more than $11 million in taxpayer purchased assets at state agencies in the past five years. But the true cost to taxpayers is twice that amount, because agencies have to replace those items.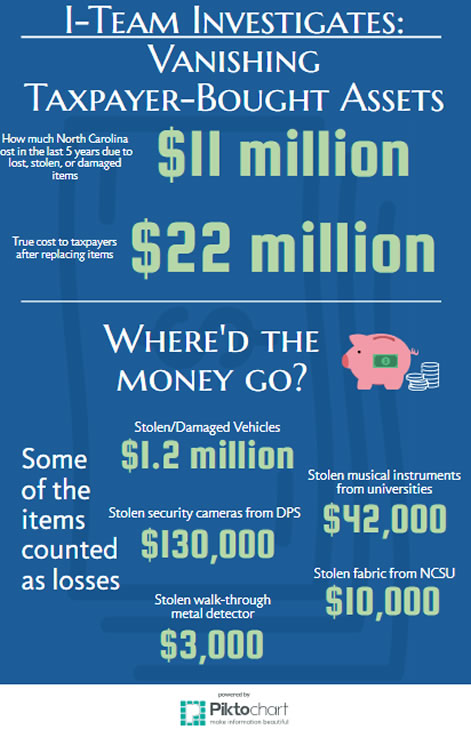 State agencies are required to submit a report to the State Bureau of Investigation, when state-owned property is stolen, missing, or damaged. After filing a public records request with the SBI, the I-Team received a spreadsheet with 5,800 line items of losses.
Among the highlights
Stolen and damaged state-owned trucks, cars and other vehicles: $1.2 million


Stolen security cameras: $130,000


Stolen walk-through metal detector: $3,000


Stolen trumpet NC Central University: $25,000


Stolen oboe UNC Wilmington: $17,000


Stolen rolls of fabric NC State University: $10,000
The database includes thousands of dollars in stolen computers and embezzled money from various state agencies.
"We are trying to watch every dollar," said Nelson Dollar, a Wake County state representative and the Senior Chairman of the House Appropriations Committee. Dollar told the I-Team, state agencies need to be scrutinized, in light of our findings. "I think that in those instances where you see a lot of missing equipment, that their oversight and their controls internally need to be strengthened."
Dollar, a Cary Republican, said he will urge the General Assembly's Joint Legislative Oversight Committee on General Government to take a closer look at the loss of assets at state agencies.
"What you want to see is, are there patterns," Dollar said. "Are there people out there who are taking advantage of the size of the state government, are there systemic issues that we need to address in a particular agency?"
As a small business owner, Leslie Woods, shares the view of many hardworking taxpayers.
"If I am paying for your assets and then you are losing them, that is just disrespectful to me as a taxpayer," she said.
Report a Typo