CHAPEL HILL (WTVD) --
The UNC Board of Governors met behind closed doors Tuesday to discuss the lawsuit the U.S. Department of Justice filed against the educational institution. $1.4 billion in federal funding could be taken away from the university.
The Board announced afterward that it would take no definitive action but would seek legal counsel.
"What we seek, above all, is an answer," said UNC System President Margaret Spellings at a news conference after the meeting.
Board members came in Tuesday for a special meeting. A legal briefing was the only item on the agenda.
Specifics of the meeting could not be shared publicly but Zachary King, President of UNC Association of Students did describe the tone as productive.
"I spoke very passionately as the first LGBT student member to the board," King said. "I said to the board, you know, I think of this as an anti-safety bill."
Live Q&A: Join ABC11 Wednesday at 1 p.m. for a live Q&A on HB2 with UNC law professor Maxine Eichner
King said he's received many emails from students concerned for their safety, especially from a friend who is transgender.
"He has a beard, is muscular and for him to be, sorry if I'm getting emotional, but if he was forced to go into a female restroom assigned with his biological sex, he's very well able to be maced," King said.
Bissette & Spellings say several chancellors were also in mtg, looking to board for guidance #HB2 #ABC11

— AngelicaAlvarezABC11 (@AlvarezABC11) May 10, 2016
"The purpose of today's Board meeting was to consult with our attorneys concerning the pending litigation involving the Department of Justice," UNC Board of Governors Chairman Lou Bissette said. "We support all the actions President Spellings has taken thus far in leading the University and responding to HB2. The Board appreciates and values her ongoing leadership. As she said yesterday, the University is in a difficult position-caught in the middle between state and federal law."
"If you're a citizen and you have state law and a federal law and you don't know which one is controlling at a certain point and time it's very frustrating," Bissette continued.
The school system is trying to abide by state law while not running afoul of federal law.
LEGAL BATTLE OVER HB2 COULD LAST MONTHS, EVEN YEARS
"We are committed to resolving the legal issues in the University's favor as quickly as possible," Bissette said. "In the meantime, we are going to continue to focus on our primary mission of educating students."
Spellings said the next step for the board is to seek legal counsel for the DOJ lawsuit.
"The University of North Carolina is about providing high-quality educational opportunities to all," Spellings said. "We depend on federal funding to help provide this access. In fact, more than 138,000 of our students-representing all 100 North Carolina counties and all UNC institutions-receive some type of federal aid. Because of this, we take the legal questions surrounding HB2 and the related lawsuits seriously."
Students who rely on Pell grants and federal scholarships could be affected by the legal battle. The university tells ABC11 about $350 million is set aside to provide financial assistance.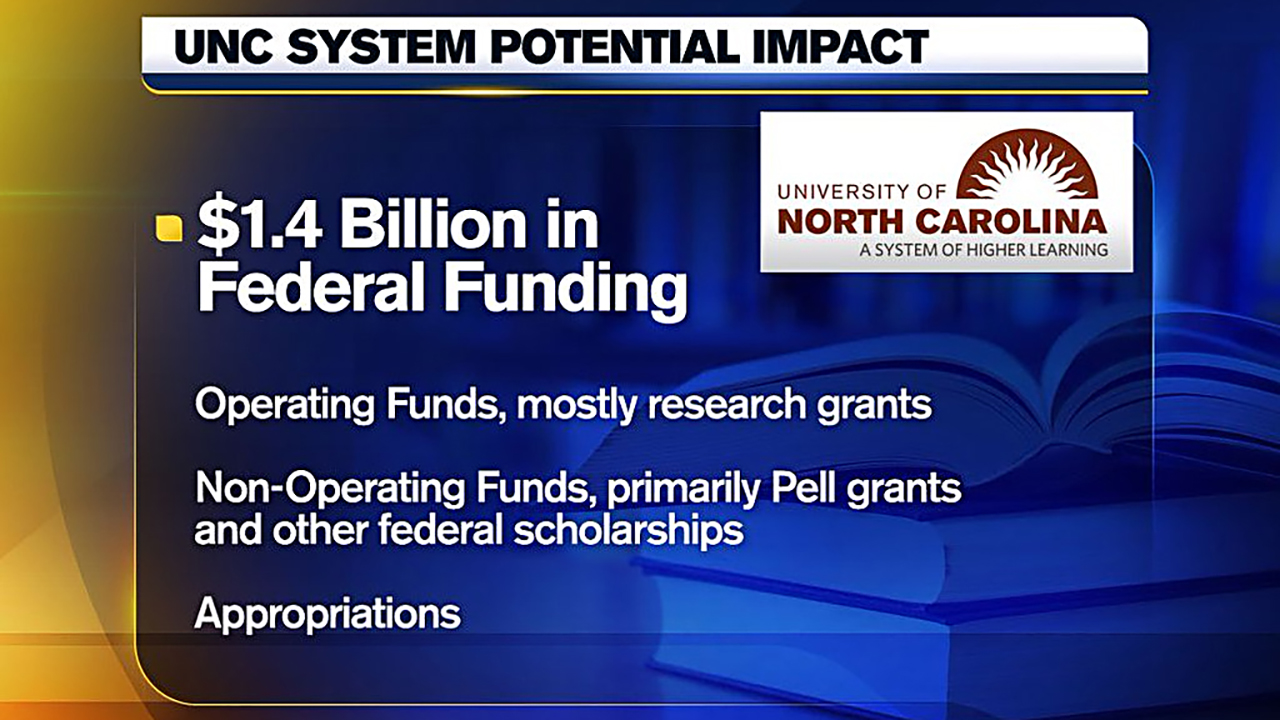 Students are concerned about how they would be able to pay for their education.
"I'm here working over the summer to save up for college, but I still need those grants," said student Laarni Lapat.
"The reason I'm coming to UNC is because of the loans and the grants I'm able to get," said student Aimee Murphy.
Research grants could also evaporate.
"We intend to remain in close communication with state and federal officials to underscore our shared interest in resolving these difficult issues as quickly as possible so that we can refocus our efforts on educating students," Spellings said.
UNC was put on notice last week that House Bill 2 is in direct violation of the Civil Rights Act.
Spellings wrote in a letter to the DOJ, "The university has no power to change the legal reality of HB2."
READ SPELLINGS' LETTER TO THE DOJ (.PDF)
U.S. Attorney General Loretta Lynch says the university reached out to the DOJ and there has been communication between the two for several weeks.
"We remain open to discussions with the state," Lynch said. "We are anxious to see what those discussions (at the Board of Governors' meeting) will bring, so we are deferring on requesting the curtailment of funding now. But we do retain that right. It's premature right now to give a date on when we will actually take that step."
Read all ABC11 stories about HB2 here
Leaders with the UNC system did not take a stand on HB2 Tuesday night, which is something King says students and student leaders have been calling for.
"I understand for right now it's difficult amid negotiations to make specific stands and statements but I know students and student leaders have been calling for a stand by the university against HB2," said King, but he said he feels despite that, the board is moving in the right direction.
Also present at Tuesday night's meeting were several chancellors. Spellings and Bissette say they voiced concern over this "uneasy" time and are looking to the board for guidance.
Report a Typo