RALEIGH (WTVD) --
The V Foundation is now teaming up with the WWE to raise money for research to hopefully find a cure for childhood cancer. And, with the entertainers in town for a show, it was fitting that the two organizations would invite a local family who's been touched by the disease. As part of ABC11 Together, we were the ones to surprise the family with the good news.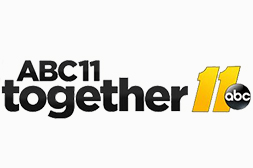 In fact, when Angie Pond and her teenage son Jaden stopped by our Raleigh Eyewitness News Center this week, they had no idea why we'd called them there.
But this wasn't the first time we'd met their family. ABC11 interviewed the family back in 2013 when their youngest son, Xander, spent his eighth birthday passing out gifts to other kids with cancer at UNC Children's Hospital. It was a tradition started after he battled cancer, and one they continued at Christmas each year.
It lasted until Xander's cancer came back, and he sadly passed away on New Year's Eve 2015. Still, his
Facebook page Strength for Xander
lives on, where his family remembers Xander's spirit, and campaigns for a cure for other families.
"Their story was really touching, and we were touched, the WWE was touched, so they graciously sent these tickets. So we were really excited. I know it's a really tough time for them right now. So hopefully it's a bright spot," exclaimed V Foundation Communications Director Katie Sweet.
When we surprised Xander's mom and older brother with both tickets and some t-shirts from the V Foundation, they were touched by the gesture.
"It's always nice to get away, focus on something else for a while. My nephew will love it and I'm sure Jaden and the friend he brings along will have a blast," Angie Pond said.
And have a blast they did, attending the WWE show at the PNC Arena Saturday night. While they made some great memories here, the family says they're even more excited about WWE's involvement in helping find a cure for childhood cancers.
"That's what pediatric cancer needs. You know a lot of people still believe it doesn't happen to kids. So, it's nice to have a big name, everybody knows about the WWE," shared Pond.
The partnership with WWE will help support cancer research nationally through funds raised by Connor's Cure, which was established in honor of an 8 year old WWE fan named Connor who passed away from cancer.
"They are such an energetic group of superstars and they are taking that from inside the ring and now they're putting it in the community. So they are raising money for Connor's Cure, and that money will come to us and we will grant it to the best pediatric researchers nationwide. I think it's going to be a great partnership, it's going to raise a lot of money and will raise all kinds of pediatric cancer research. And that's the hope, that we'll hopefully save more kids with this," said Sweet.
Cancer is the leading cause of death by disease in American children


Only 4 percent of federal cancer research funding is dedicated to childhood cancer research


There are 12,000-15,000 newly diagnosed pediatric cancer cases each year


1 in 5 children will not survive pediatric cancer


The 11th Annual Dick Vitale Gala is this Friday, May 13 in Sarasota, Florida. To date, the event has raised more than $15 million for pediatric cancer research through The V Foundation. Robin Roberts is one of the honorees at this year's event.


The V Foundation has funded almost $20 million in pediatric cancer research grants since its inception, including nearly $5 million in grants awarded in 201