RALEIGH (WTVD) --
Dig 'em all up.
That's the initial recommendation, at least, from the state's environmental regulatory agency as to how Duke Energy should clean up its 34 coal ash pits around the state.
But while that may come as welcome news to people living in the shadow of the energy giant's 14 coal plants in North Carolina, environmental advocates aren't cheering the news, seeing it as a delay tactic and leaving the ponds in limbo.
For more than a year, the state has been working out the recommendations released Wednesday; proposed classifications for the coal ash ponds, based on the current risk of each pond's impact on public health and the environment. The classifications were due May 18 and the state ranked each site either "high" or "intermediate." That would mean that every coal ash pond would have to be dug up and the toxic sludge in them, dried out and safely stored in a lined-pit elsewhere.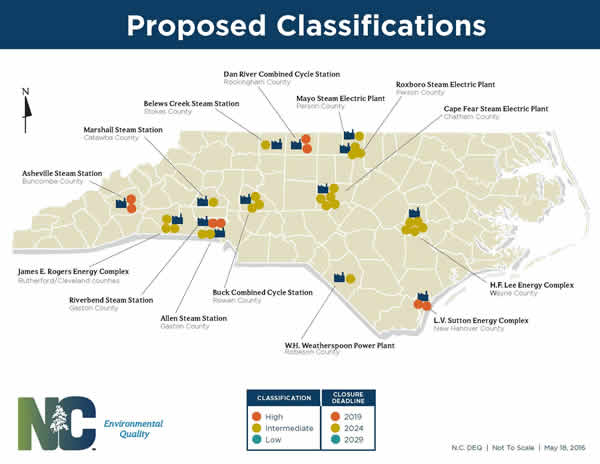 The proposed classifications include the eight mandated as high priority under the law, and 25 classified by today's action as intermediate. High risk ponds must be dug up and closed by 2019 and intermediate ponds must be dug up and closed by 2024.
But the decision from the Department of Environmental Quality isn't final.
"The deadlines in the coal ash law are too compressed to allow adequate repairs to be completed," said Donald R. van der Vaart, secretary of DEQ. The agency is asking the General Assembly to allow it to reconsider those classifications 18 months from now, saying work that is already either planned or underway could significantly change the risk posed by the ponds. According to a press release from the state, "The main risk factors driving today's classifications were dam deficiencies that are currently being repaired, and potential impacts to nearby groundwater."
For environmentalists, therein lies the rub.
"DEQ didn't do anything today," said clean water advocate Pete Harrison, with the Waterkeeper's Alliance. "It's all bark and no bite. They want the headline to be, 'We're cracking down on Duke Energy,' but they're also asking the Legislature to let them change everything in a year and a half. They're punting and refusing to make a decision until after the election."
"You could say DEQ is acknowledging the potential danger of all of these sites and that they need to be cleaned up," Harrison continued, "but there's nothing that binds them to that and we have all the reason in the world to expect them to shy away from that over the next year and a half."
The environmental agency said that a number of ponds were rated intermediate because of unfinished repairs and that state regulators will use their existing legal authority to ensure those repairs are completed by the end of this year.
The release from DEQ also said Duke Energy has put forward a study that evaluates the feasibility of supplying permanent alternative water to nearby residents. The department's recommendation is that the classifications be re-evaluated after the dam safety repairs are made and the utility provides these permanent alternative water sources to nearby well owners.
According to DEQ, the recommended classifications will become final 60 days from Wednesday.
A table that shows the risk factors that determined each pond's classification can be found
HERE (.pdf)
Environmentalists aren't the only ones weighing in.
Duke Energy put out a statement Wednesday, applauding the Department of Environmental Quality's intention to request a re-evaluation in 18 months. "Today's announcement is an important milestone in the development of long-term closure solutions for coal ash basins, which store non-hazardous material. However and equally important, it acknowledges that work is incomplete and changes to the Coal Ash Management Act (CAMA) are necessary in order to get to final recommendations."
"If NCDEQ's proposed recommendations are allowed to stand, without review and possible adjustments based on additional new information," the Duke statement continues, "the state will have chosen the most extreme closure option that will have a significant impact on customer costs and hinder economic development. In addition, it will cause decades of disruption to communities, all without additional, measurable environmental benefits. Given the scope of work, there is significant risk in meeting excavation deadlines by 2024."
The statement from the energy giant also points out something DEQ did not make clear in its press release: "NC DEQ acknowledges that all basins except those already designated as "high" could be ranked "low"" if the state environmental agency is allowed to reassess the ash pond reclassifications in a year and a half. You can read Duke Energy's full statement
here
.
Report a Typo