CAROLINA BEACH (WTVD) --
Emergency crews are still looking for a swimmer missing since Saturday night. They're using every resource, including aerial, water and land assets to find 21-year-old James Cameron from Graham, N.C.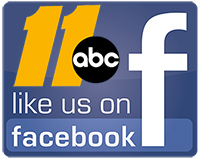 He went missing under the water around 7:45 p.m. well after lifeguards got off duty. Lingering lifeguards happened to notice trouble on the water though and were able to pull Cameron's loved ones to safety.
Cameron is 5 feet, 10 inches tall, and 160 pounds. Carolina Beach police say he was last seen wearing red, white and blue swim trunks. County fire crews and the U.S. Coast Guard are also helping to look for him.
The dangerous rip currents are the main evidence that former-Tropical Depression Bonnie has been swirling near the Carolinas.
"Even though it's beautiful outside that it's still a storm out there, so the undercurrent is just insane," said Wilmington resident Savannah Motley.
Those rip currents kept lifeguards busy during the long holiday weekend. They either had to jump in the water to pull people to safety or check on people too far into the ocean.
"The undertow is pretty strong, so we're just keeping people at knee deep," said Jeff Owen, the Fort Fisher Park Superintendent on Sunday.
As far as the crowds, Rodney Foley with the Holiday Inn at Wrightsville Beach said they didn't have any cancellations.
"We were pretty booked up for the weekend, a lot of people left early today because of the weather, but it looks like they left a little too early," said Foley.
That really was the theme of the weekend, great weather but dangerous water. Beach Patrol officers riding up and down the beach say by Monday, many people were staying out of the water.
"As a strong swimmer I don't think I'd want to go out there very far either," said Wilmington resident, Rachel Fisher. "We've got little guys and so we don't want them going out past really our knees, we've definitely been staying closer to shore than we normally would."