FUQUAY-VARINA (WTVD) --
A Wake County woman was so upset about her business being hit by thieves twice in a week that she took to social media to ask people if they would take shifts watching her plant nursery.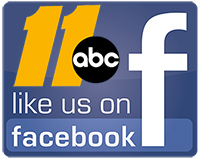 Customers have called to volunteer. After all, they want thieves off their streets, too.
Nelsa Cox owns The Garden Hut in Fuquay-Varina. She observed thieves on surveillance video...stealing from her, and now she's helping police catch the culprits.
"(He) gets out of his minivan; you can see his child seat there -- can't tell if there's a child in there. Grabs two roses, goes back gets two more roses, two more, and then, boom," Cox said.
Cox gets upset every time she sees this surveillance video of a man stealing six pots of roses from her nursery.
"It hurts when you know there's somebody out there, somebody's dad with a kid seat coming in here to take $100 worth of roses," Cox said.
But she gets furious when her surveillance cameras catch two other people stealing from her just two nights later.
"It's like, wow. They just made off with four $175 maples in less than two minutes," she said.
Cox opened The Garden Hut in Fuquay-Varina more than a decade ago. Much of the business is outdoors.
"You would think the guy would have had gloves on, because they do have thorns on them," she said.
The thieves drove up, loaded their vehicles with plants and left. Cox is working to catch them and keep it from happening again.
She plans on putting boulders all the way down one side of her business.
And she's grateful she has this surveillance footage to share with police -- and the public.
"You don't want to live your life suspicious, you don't want to point fingers, but you want it to stop," Cox said.
At one point, Cox thought she might close her nursery, but she refuses to let thieves scare her away.
"I love horticulture, I love helping people," she said. "I love seeing plants grow. We're not shutting down. You're going to have to nail the coffin on me before we shut down."
Fuquay-Varina police said they arrested a woman seen in the video, and she has confessed to the crime.
Now they're looking for two other men in the videos.
On Monday, Cox said a man actually reached out to her on social media and told her he had her plants and he would return them for a reward.
Police are investigating.
Report a Typo