ROCKY MOUNT (WTVD) --
"We knew it was dangerous," said US Marshal Scott Parker.
Parker, along with men and women from nearly a dozen other law enforcement agencies conducted a two-day joint operation dubbed Operation Big Show.
In total, 54 people who were considered high-risk parole and probation offenders were arrested for violating the conditions of their punishment.
The June 7-8 initiative also led to 170 homes visited, at least 10 weapons seized, and 30 new probation violation charges.
"We want to make sure the citizens of Rocky Mount, Nash, and Edgecombe Counties, and Eastern North Carolina this summer when crime typically goes up can go out on their porch and enjoy," Parker said. "The kids can play on the playground. We want to make sure that the repeat offenders knew that we were watching them."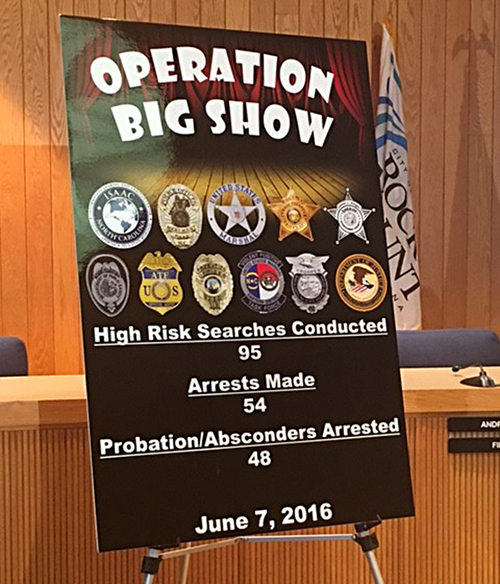 The operation was the largest joint operation in Rocky Mount history.
North Carolina Department of Public Safety Secretary Frank Perry told ABC11, "Two months of planning in my view is sometimes not enough because it's high-risk, it's high-danger, and you have so many agencies trying to communicate with each other."
Perry said he felt the operation was a success, especially since no innocent persons were hurt or wounded. Perry continued, "But when they go well, and we have as many as 50 people arrested, that is a good operation."
Five handguns, three stolen weapons, one shotgun, and one assault weapon were among the items confiscated during the search. Ammunition and magazines illegally possessed by several felons was also seized.
The joint operation also boasted the high-profile arrest of Travis T. Moore. Moore was on Rocky Mount's Top 10 Most Wanted list for common law robbery.
"Tuesday was not a good day for them," Parker remarked.
The agencies involved included:


United States Marshals Service


North Carolina Department of Public Safety, Community Corrections


North Carolina Department of Public Safety, Special Operations & Intelligence Unit


Bureau of Alcohol, Tobacco, Firearms, and Explosives (ATF)


Rocky Mount Police Department


Nash County Sheriff's Department


Edgecombe County Sheriff's Department


North Carolina State Highway Patrol


United States Attorney's Office for the Eastern District of North Carolina


District Attorney's Office for District 7
Officials considered Operation Big Show a success and have said there will be more in the future.
"This operation has undoubtedly benefitted the law-abiding citizens of the Twin Counties," said Edgecombe County Sheriff James Knight.
Report a Typo