RALEIGH (WTVD) --
Michael White has been down on his luck since his home burned down six years ago.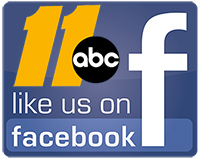 "After that it was storage units, underneath of people's porches, shelters, wherever I could sleep any given night," he said.
The disabled Army veteran struggled to find a permanent place to live, until January when he signed up for Wake County's Housing Voucher Program.
"It's given me stability, given me hope where I don't have to worry about where I'm going to have to sleep, what I'm going to do for food," said White.
White is one of 70 veterans living in affordable housing managed by local non-profit, CASA.
More than 50 vets in Wake County are currently on a waiting list.
Tenants pay 30 percent of their income toward rent and utilities.
The rest is paid for with local, state and federal money.
Landlords are able to get the full rent for their apartment unit, and then they're able to really get two objectives: do good work and also have it be a good business decision," said CASA CEO Debra King.
But county leaders say they don't have enough landlords participating and are in desperate need of more private properties.
CASA is currently at capacity with 400 units across the Triangle.
"The barrier right now is just lack of awareness. The landlords just don't know about this program and we need to get better about spreading awareness," said Wake County Commissioner Matt Calabria.
White hopes his story helps get the word out as the waiting list grows.
"CASA has been a life saver," he said.
To learn more about the program or to help:
https://www.casanc.org/
Report a Typo