Some of the best and brightest high school students from the Triangle are competing in Dallas this weekend to win over real-world top executives in a national competition.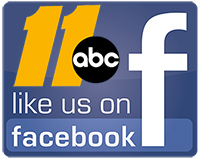 The Leaders of Tomorrow business case analysis competition draws teens from across the U.S. who belong to various chapters of the National Black MBA Association. The Raleigh-Durham chapter invited ABC11 to go inside its last meeting in RTP before the team flew out to Dallas on Friday.
With scholarship money on the line, no detail is too small for Bryan Hager and Xavier Milton as the teens put finishing touches on their half-hour long presentation, a business case study for Delta Airlines.
"When they present the case, it's as if they were talking to the CEO of the company or the business," explained Marion Johnson, Leaders of Tomorrow director.
For the past three months, Johnson and other mentors have led a small team of students, plucked from their local NBMBA Association, in preparing for this case study. A panel of judges including university professors and top business executives will be judging the students' presentation on how to grow Delta by up to $600 million.
Milton, who just graduated from Athens Drive High School in Raleigh, is looking forward to the real-world experience and focused on his role.
"I will be looking up the oil prices all the way up until the moment before," he said.
He was in charge of creating Delta's financial forecast.
"Those are skills that people don't learn until they're in college or MBA School and I've learned them now."
He and Hager helped their team finish third in last year's competition in Houston, a strong finish that netted them $5,000 in scholarship money.
This time around, with the help of their mentors and three-months' worth of training from mentors and industry experts, they're facing about 150 of the sharpest kids in the country, looking to place even higher.
"It's a pretty high-level thing," Johnson said. "And these students who are 15, 16, 17 years old are held to the same standards as MBA students."
Along with a shot at scholarship, the Leaders of Tomorrow Program is providing minority children with leadership development, entrepreneurship, community service and academic enrichment, skills that will carry these motivated teens far beyond a contest.
"I find myself to be a lot more confident and also more prepared because I understand the work that has to go behind something to make it great," said Hager, a rising senior at Josephine Dobbs Early College High School in Durham.
With the confidence he's built through LOT, Hager said he knows exactly what he wants for his future.
"I want to be a civil engineer and along with that, I would like to have my own engineering firm," he said.
In the fall, Milton will attend Morehouse College in Atlanta.
Their team competes Saturday in Dallas.
Report a Typo