DURHAM (WTVD) --
When the staff at a Durham Applebee's told them their lunch bill had been paid in full, Vivian and James C. didn't understand.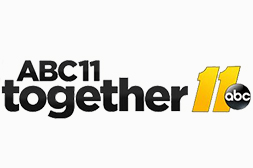 "You said 'impossible!' " Vivian said looking at James.
"It's impossible because we don't know anybody here," James said, questioning who would've picked up their tab.
As their server handed them their receipt, the couple quickly remembered the brief and pleasant encounter they'd had with a man and his mother on their way in. He had opened the door for Vivian, telling her his mother raised him to do so.
When Vivian spotted the man's mom, she decided to let her know how much that simple gesture meant to her.
"I said well you know, you've done it right," Vivian told her. "You've done it so right for this world today. And she said thank you so much and I said, no thank you! And thank you for your son, for being so gracious and holding the door for me."
By the time Vivian and James were finished with their meal and handed their receipt, the woman and her son had gone.
Now holding the receipt, Vivian reads aloud, "In her handwriting it said, 'Paid in full. God bless you. Have a great day,' with a smiley face. And 'Thank you for your kind words. Melissa and son.' "
Vivian had paid the mystery mom a simple compliment and in turn, the woman paid for their lunch, leaving this couple in awe.
"I just -- this is crazy!" she said. "This doesn't happen. And I don't believe this -- and I literally got tears in my eyes."
Even the server who was in on the surprise was taken aback by the generosity of strangers.
"It makes me feel good that there are good people out here," Dynasty Reed said. "And maybe someone will see this and keep it going."
It's certainly one act of kindness that won't soon be forgotten.
"(The receipt) probably will be framed," Vivian said, staring down at the words of someone she only met in passing, someone who left an impression that will last a lifetime.
Report a Typo