RALEIGH (WTVD) --
As news of the recent terrorist attack in Istanbul has made its way around the world, conversations about airport safety have been on the forefront of many minds.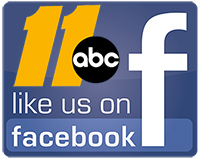 In the Triangle, many have wondered what's being done to prevent attacks at RDU International Airport. Thursday was business as usual for RDU. And for the airport authority, that is exactly how they want it to be.
Representatives from the RDU airport authority told ABC11 that there are "eyes and ears" in many places throughout the airport. The authority declined to offer specifics when pressed, but assured ABC11 that the safety is travelers is their top priority and "a lot" is being done behind the scenes, in addition to help from the TSA, to keep the operation moving swiftly.
Russell White landed in Raleigh on Thursday afternoon and will be staying in the Triangle for the holiday weekend. He told ABC11 that he felt safe during his flying experience. When asked about security behind-the-scenes, White feels OK being inconvenienced "as long as it doesn't go against my natural rights."
He continued by saying, "I trust the systems that are in place because you know there's people doing hours and hours of research -- years of research -- if it's there, it's there for a reason."
Raleigh mother Keleigh May admitted that she doesn't pay enough attention to the security measures at the airport.
READ MORE: TRIPLE SUICIDE ATTACK AT ISTANBUL AIRPORT KILLS 41
The mother to a 5-year-old said, "...I'm just thinking how can I get in the easiest trying to wrangle him. So I'm not even thinking of the horrors that can be awaiting."
However, May felt security presence was lacking in the pre-checkpoint and baggage claim areas.
"I think that probably RDU is doing everything they can in our current situation," she said. "But I think the biggest thing is to just live our everyday lives taking these precautions and hopefully that will catch and weed out all the bad eggs."
A TSA representative would not distinctly explain what is being done at RDU to keep travelers safe, but did note that RDU is "capable" of handling a major attack. According to the TSA, the airport authority along with local law enforcement, work in tandem and regularly communicate to promote traveler safety and prevent attacks.
RDU was required to produce a security plan to the TSA outlining best practices and recommendations. That plan, which is required by every airport, must be approved by the TSA in order for the airport to service commercial flights.
When asked for a grade on RDU's preparedness, the TSA told ABC11 that it is "confident" RDU can handle an attack, and law enforcement officers will be "ready" if that time comes.
Cary father Nathan Herrmann, who just returned home from a business trip, was happily greeted by his wife and daughter at RDU on Thursday afternoon.
When asked about airport safety, Herrmann said, "I think (law enforcement) do what they need to do to protect us."
He continued by saying, "I'm OK to take my shoes off and my belt off. And to take a few extra steps to make sure we have these security practices in place to make sure we feel safe. And they're doing what they need to do to keep everybody safe."
The TSA also says active shooter trainings take place often to make sure agents are in place and prepared for a major event.
Report a Typo