DUNN (WTVD) --
For the 10-and-under NC Angels All-Star team, returning to the Dixie World Series means a shot at redemption.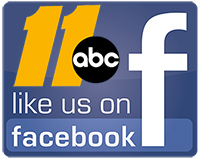 "Last year, we got third place and lost to Alabama by one point," said Harmony Horne, "so I think this year we're going to go out there and get first place.
The NC Angels are looking for a storybook ending, and their state championship chapter closed with a game-winning strikeout
"When you throw that last pitch, it feels so great when you just threw that because some people never get to do that, throw that last pitch that wins the game," said Isabella Lisk.
This squad features six girls from last year's 8-U team that fell short in the tournament, so the team's veterans have some valuable advice for the rookies.
"Don't get down on yourself, because it's only going to make things worse," said Ashley Bliven. "Make sure you stay up."
The chance to represent North Carolina on a big stage means a lot.
Head coach Jeremy Bass also knows many of the coaches and girls on the 8-U team out of Hope Mills that will participate in the Dixie World Series in Mississippi.
"They have a good shot at doing well," Bass said. "So we wish them all the luck in the World Series as well."
But for these girls here, the chance to represent Dunn to the fullest is huge.
"This is like a huge opportunity, to go to the World Series, said Aubree Bass. "And very few people get to do it twice, and I'm excited that I'm one of those people that gets to do it."
And hopefully, this time, return with a championship trophy.
Report a Typo