FAYETTEVILLE (WTVD) --
A large group of Fayetteville residents came together on the steps of the city's police department Friday evening to promote community connections. The event "Hold My Hand Brothers and Sisters" was held to push for change and foster a healthy relationship with the Fayetteville Police Department.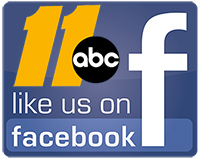 Event organizers used Facebook, along with other outlets, to invite more than 3,600 people to participate in a peaceful protest.
Fayetteville Police Chief Harold Medlock says his brand of community policing is helping bridge the gap between the department and city residents.
"The community knows that we are here to support them. And to make sure they are safe in sharing their views," Medlock told ABC11. "This is just another component of who the Fayetteville Police Department is. We are that community police department."
"I think Chief Medlock is doing a wonderful job. He's very willing to help," said event organizer Shareece Saxton. "He's showing that he's willing to be in the community, he's willing to hear our voices and even be that voice for us because he is a leader in this community."
Invited guests included: District Judge candidate Angela J. Carter, business owner Frank Thompson, Joshua Zuri Williams of Dillon High School, along with Fayetteville Assistant Police Chief Anthony Kelly.
Throughout the protest, speakers reminded attendees that Fayetteville needs to stick together and also encouraged those affected by the justice system to keep their head up.
Blogger Jahara Davis-Haymon decided to attend Friday's event to promote positivity and continue to raise awareness about equality.
"In order to be a part of what we stand for, you need to honor the fact that we also matter too," Davis-Haymon told ABC11. "We make the world go 'round much more than you think. So how about we put the guns down and we talk first. Let's do that."
Report a Typo