RALEIGH (WTVD) --
As Heat Advisories went into effect Monday afternoon, Triangle schools were forced to rethink their afternoon sports plans.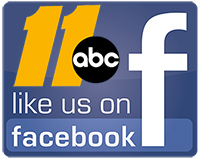 Wake County Public Schools and Cumberland County Schools postponed their afternoon outdoor athletic practices. Ravenscroft, in Raleigh, did the same thing.
"I tell all of our coaches that safety is the number one most important thing to us," said Ned Gonet, athletic director at Ravenscroft.
"We are very fortunate that we do have a lot of indoor facilities, we actually have four gyms on campus," he said.
Gonet and his team of certified trainers keep a close eye on the weather, checking the temperature, heat index, and Wet Bulb Globe temperature every hour.
It is always kind of a fluid thing. Clouds build in, you get a little bit of a breeze, things change a little bit, as Michelle Piette described.
Piette is head athletic trainer at Ravenscroft and is one of two certified trainers that closely monitors players for signs of heat exhaustion.
"When an athlete starts to become lethargic, if indeed you start to see them get nauseous and start to throw up, those are clear-cut signs that you better start to do something somewhat quickly," she said.
Gonet said it's important to reduce the amount of protective gear football players wear as well. The helmets and pads can add an additional degree or two to the athlete's body temperature.
"We probably won't be in full gear, we'll break it down a little just to helmets or shells, we will take all the necessary precautions to make sure those kids are safe," Gonet said.
Misting fans, coolers with ice water, and even an air-conditioned medical facility can help, too, in case of an emergency.
"If it looks like we need to reduce body temperature really quickly, then into the cold slush baths we'll go," Piette said.
"You know it's not always about how you toughen it out, what you get through, it's about putting our kids in a safe situation that they can be successful," Gonet said.
Ravenscroft will play Southern Vance on Friday in its season opener. The game is set to start at 7:30 p.m. Hopefully, heat will be less of a factor then.
Report a Typo