FAYETTEVILLE (WTVD) --
The relationship between law enforcement and residents was top of mind in Cumberland County on Tuesday night.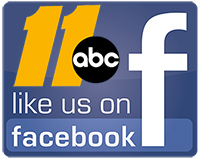 The Fayetteville-Cumberland Human Relations Commission held a special meeting to tackle the tense issue that has people talking across the country.
Fayetteville Police Chief Harold Medlock and longtime Cumberland County Sheriff Earl Butler addressed the group and shared their thoughts on methods to building strong relationships with the communities they serve, transparency being one of their most valued tools.
"If you get to know people, they don't mind calling you," said Butler, reassuring community leaders that his agency is moving in the right direction. "When you can get with people and they can feel comfortable with you whether it's a law enforcement person or preacher, or whoever it may be, that opens the line of communication."
Citing recent violence and protests sparked by officer-involved shootings in cities across the country, Butler pointed out why he says he believes their communities have been spared.
"If you want respect from people, you give them respect until such a point that they won't allow you to give them respect," he said. "And many times, it makes a friend out of an enemy."
Medlock said in his three years in Fayetteville, he's focused on growing closer with the city's youth.
"One of the things that I have learned in the last three and half years is to shut up and listen," Medlock put plainly.
He touted the benefits of the Chief's Youth Advisory Council where Medlock meets with students at four area high schools. He said the department will be expanding the program to two more schools next year.
Last week, Fayetteville Police had a 4-year-old boy sworn in as a junior officer after he promised to do things like obey his parents and eat his vegetables.
"You know what, that's cute," Medlock said addressing the video of the child's swearing in that posted to the department's Facebook page. "It is. But that little fella wants to be a police officer and he loves police. We've got to find a way to foster that."
READ MORE: PEACEFUL PROTEST UNITES FAYETTEVILLE RESIDENTS, POLICE
Medlock called the 140 community watch programs the backbone of dealing with crime and quality of life issues and said officers' body cameras are also helping to strengthen accountability.
Butler said there are times when officers have to use force, but he feels their agencies are well trained to handle a variety of situations the best way possible.
"We have caring people that's involved in the law enforcement, I tell you, on all branches," he said. "And I just hope with what we're going through in this country today, we can continue to draw that kind of people into law enforcement."
Report a Typo