DURHAM (WTVD) --
A family shelter in Durham is in need of some help of its own after it was damaged by an early morning fire.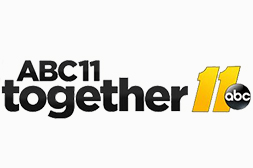 Fire crews were called out to Families Moving Forward on North Queen Street just after 8 a.m. Friday morning.
They say the fire started in a kitchen and was put out by the building's sprinkler system.
WANT TO HELP? YOU CAN MAKE A FINANCIAL DONATION HERE
Two of the shelter's rooms have water damage, and the families in those rooms had to be moved.
The shelter executive director says he's thankful no one was hurt.
"Everyone was able to get out, it's a little bit scary, it's definitely an inconvenience but as long as everyone is okay we can move forward and we'll be OK," said Ryan Fehrman, executive director.
Families in the shelter will not have access to the kitchen for the time being, and the electricity is off on that side of the building.
RISE Donuts and Biscuits, Domino's Pizza, and the Urban Ministries of Durham made sure the families at the shelter were fed Friday.
The shelter is asking for a donation of at least 12 grocery store gift cards. The shelter is at 300 N. Queen St. in Durham
To learn more about the shelter,
click here
.