WAKE COUNTY, N.C. (WTVD) --
Community gardens are nothing new in cities, but the concept is beginning to grow in schools.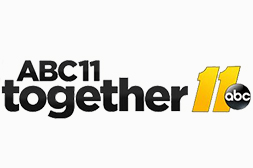 Now, students at
Northwoods Elementary
in Wake County are trying out their green thumbs.
LEARN MORE HERE
"It's not just nutrition, there's ecology that you learn about in a school garden, you can do math," explained PTA Volunteer Leigh Williams.
Williams's daughters attend Northwoods Elementary School in Cary. Williams spearheaded the school garden in 2013 with an initial donation from the PTA. Since then, the garden has grown through numerous donations from community businesses and parents.
"We got about seven demolished decks and stored it until we were able to build," Williams said. "So, we estimate 70-80 percent of the garden is reused wood."
Recycling and composting are natural lessons from the garden. Students also learn about science and ecology by collecting and identifying bugs. Math is done for watering and planting. Perhaps the biggest lesson is in the form of giving back to the community.
"We donate our harvest to one of two places," said Williams. "The Cary Downtown Farmers Market has a farmers food share, and when we harvest on a Saturday, we will take the leftover harvest to donate to the farmer food share. We also donate to Dorcas Ministries, which has a food pantry there, and they love to get living foods. It's much healthier way to feed the needy families in the area," she said.
Learn more about growing local food systems in the Triangle with Dig In!
Advocates for Health in Action
or through
Wake Co. Public Schools
.