CHAPEL HILL, N.C. (WTVD) --
Students from local universities and historically black colleges and universities took advantage of an annual opportunity to get real world advice about the news business from ABC11 anchors, reporters, producers and news managers.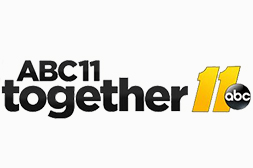 They hope the hours they spent on Saturday inside the Friday Center at UNC Chapel Hill will pay off.
"We hope it will help foster the creation of more young, up and coming journalists," said keynote speaker and ABC11 anchor Joel Brown.
He, along with ABC11's John Clark, DeJuan Hoggard and Anthony Wilson, fielded questions related to the day's theme: "Words Matter: What's The Media's responsibility in a Highly Charged Environment?"
The answers the students got were very frank, which advisors and professors who accompanied them appreciated.
"And you all said 'My job is to tell the story, and my opinion doesn't matter.' I think unfortunately, we see very little of that anymore," said Linda Kean of the East Carolina University School of Communications.
ABC11 General Manager Caroline Welch said this is joint effort with a group organized back in 1971 to promote viewer awareness of issues faced by the station's very diverse audience.
"The WTVD Minority Advisory Committee I believe is one of only two in the country. And we're proud to partner with them on it because these are the journalists of tomorrow," she said.
Those aspiring journalists got to talk one-on-one with the people they see on television as well as the ones who are behind the scenes making decisions about news coverage.
"I know that it's very busy," said Shakira Warren, an NCCU student who's interning at ABC11 this semester. "Anything can happen, you've just got to stay on your toes and be prepared. I want to become a news reporter."
ABC11 members also reviewed resumes, helped them prepare for interviews with prospective employers, and warned about oversharing on social media if they plan to become professional journalists.
Calvin Hall, the chairman of NCCU's Mass Communications department, likes what he witnessed on Saturday.
"It's always good for them to see the product, and to see the process as well," Hall said.
Report a Typo