CHAPEL HILL, NC (WTVD) --
Spotlight Cinema held a red-carpet, sneak peek screening of a new Disney movie to benefit charity, in honor of the Chapel Hill author who wrote the book that inspired it all.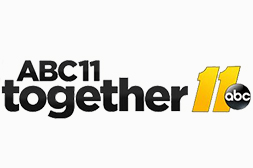 The movie is the "Queen of Katwe" and it follows the story of Phiona Mutesi as she goes from a 9-year-old girl selling corn on the streets of Uganda to an international chess champion.
It's a based on a true story -- a book written by UNC professor Tim Crothers.
MORE: UNC professor's book inspired 'Queen of Katwe'
"She did not read or write, she had been dropped out of school for six years and she all of a sudden is taught the game of chess," Crothers said. "And it is the ultimate story of perseverance."
Folks in Chapel Hill were excited to see the movie ahead of the Sept. 30 release.
"I'm interested to see how much it follows the plot of the book," moviegoer Greg McAvoy said.
"A 15-year-old chess prodigy out of a slum in Uganda? I mean that's amazing," moviegoer and UNC women's soccer assistant coach Chris Ducar said.
"This event is sold and we're super, super excited," said Rachel Marshall, Crother's friend and one of the organizers of the event.
The proceeds from the ticket sales are going to benefit a charity started by the book and movie's main character, Phiona, and a local chess program for youth started by Crothers.
Watch the trailer for "Queen of Katwe" below.
Disney is ABC11's parent company.
Report a Typo