DURHAM (WTVD) --
A local non-profit started by Duke basketball coach Mike Krzyzewski kicks off a new program to get more local high school students into college.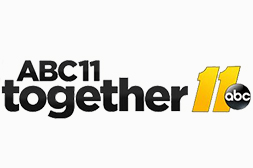 It's called "Game Plan: College" and it's a program that launched Wednesday night at the
Emily K Center
in downtown Durham.
The free program helps local high school students get into college and is focused on helping students from low-income families, underrepresented groups, or who are the first in their family to go to college.
The Emily K Center hopes to help these students come up with a "game plan" for getting into college by providing guidance through individual counselling and group workshops lead by their peers - other high school student, trained by the center and hoping to get into college as well.
Over a 'hundred' students and parents showed-up for the kick-off event.
The program is still open and runs through the fall.
Check out more information about the program and how to get started here.
Jaylyn Barbee is a senior at City of Medicine Academy, a high school in Durham. He's one of the peer leaders in the program.
"I just hope to get some kids on the right path way to get to college, and to get to college myself," Barbee said. "My mom or my dad actually didn't go to college, so being a first generation it's kind of important for me to go through the process and get my education and hopefully be able to get a good job."
Watch Jaylyn Barbee explain more about his hopes for the program.
This is not the first of its kind for the center, rather it's an extension of the work already being done there, according to its co-vice chair, Jamie Spatola.
"The Emily K Center is all about college access, so it empowers, encourages, equips young people to have the tools that they need, the information that they need, to navigate the very difficult college admissions process," Spatola said. "And (Wednesday's) event is about expanding that, expanding the mission that we have to get these kids to go to college, to more students and making it more accessible to a greater portion of the population."
Spatola is Coach K's daughter and the organization is named after her grandmother, Emily Krzyzewski.
Watch Jamie Spatola explain what the organization means to her.
Report a Typo