PITTSBORO, NC (WTVD) --
Northwood High School's new homecoming king is a special-needs student, but Blake Schemmer didn't gain the crown as some token nod of sympathy. He got the honor because he's genuinely beloved by his classmates for his positive personality.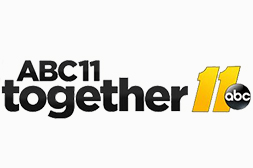 The school's athletic coaches said the win wasn't planned by the students.
"It wasn't a movement or anything to make sure he got it. I mean, this is truly genuine," Northwood coach Rick Parks said.
Schemmer recounted Thursday night's big moment with a smile.
"Everybody just paused for a minute, and the next thing I know they said 'Blake, you're homecoming king,' " Schemmer said.
People in the stands started chanting "Schemmer, Schemmer," as he's known for his infectious energy, and his catchphrase: "It's Schemmer Time."
"Blake attacks the day with an enthusiasm that's unbeknownst to mankind," coach, Alex Hart said.
"Every morning he comes in he's smiling, he's energetic," co-athletic director Cameron Vernon said.
Schemmer said the win means the world to him.
"It's so good that you've got friends that care about you," he said. "Thank you for everything y'all have done. I mean y'all have touched me like ... I never believed what would happen."
Schemmer's grandmother is his guardian, and she said she's so thankful for everyone who's shown him so much love.
"I know he's always had a lot of friends in school," Vergie Arrington said. "But they all accepted him and that's a great honor."
Schemmer wore his homecoming crown to school on Friday to celebrate.
It was indeed, "Schemmer Time."
Report a Typo