HOPE MILLS, N.C. (WTVD) --
Tabetha and Keith Davis have dealt with a devastating flood not once, but twice in about a week at their Hope Mills home.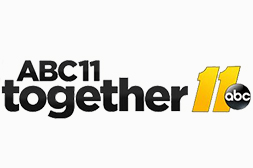 "Everyone's been affected. I feel like if they haven't been personally affected, their family has been," Tabetha said. "And it's just like...any little things help, and I want people to come together and help each other."
CLICK HERE TO LEARN MORE OR DONATE TO THE DAVIS FAMILY
Sifting through their soaked belongings is difficult, especially when they come across precious, irreplaceable pictures.
"There was a box of pictures and memories up in the attic that I thought would be safe 'cause I didn't think [the water] was going to come that high," Tabetha relayed. "We got that down and I'm trying to wash the mud off the pictures that I can salvage."
Earlier this month, ABC11 spoke with the Davises as they tried to save and store what they could the first time the floodwaters hit their home.
MORE: Hurricane Matthew has Sandhills concerned about more flooding
After heavy rain, a stream from Hope Mills Lake overflowed, which sent water surging into yards and homes. As Matthew began dumping torrential rain on the area, the Davis family once again scrambled to move their things to higher ground.
"We were soaked, there was five of us, and we just kept loading stuff, running and running and drenched, and trying to save stuff," Tabetha recalled.
"I really thought [our stuff] would be safe, that we might get a little more than we got the first time, but not that much," Keith told ABC11. "I mean, it was unreal. [The flooding] actually covered all the cars. My wife's van actually floated."
They have lost nearly everything, but their faith remains.
"I guess I've been at the bottom before, and I've always come out in a better place, and God's got me," Tabetha said. "That's what I really feel like. Take a deep breath, and realize life does go on. Just gotta be strong, and get through it."
CLICK HERE TO DONATE TO THE DAVIS FAMILY